19 from Odisha shortlisted for Dance India Dance Season 6
Bhubaneswar: Audition for popular dancing reality show 'Dance India Dance Season 6' was held at KIIT University campus here recently.
More than 500 contestants in the age group of 18 to 36 years from different corners of the state exhibited her dance skills. The judges shortlisted 19 among them on the basis of potential and dancing talent, style and X factor and they will be participating in the next level of the competition to be held in Kolkata. Those selected in the Kolkata audition will be judged in New Delhi for the studio round in Mumbai.
"Level 1, 2 and 3 were conducted here. Since most participants were untrained, they were not technically sound. They had picked up dance steps by watching shows on YouTube. Those in whom we saw the potential to do well with a little training were shortlisted for the next round of the show," said dancer-choreographer Mandakini Jena, who judged the audition.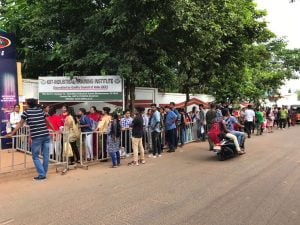 Though there is no dearth of talent in Odisha, the gap is mostly technical, she added.
Jena is also judging contestants at other venues across India.