Odisha Teenagers Say No to Child Marriage, Seek Education, Health
Bhubaneswar: Thirty-nine adolescent and young girls and boys, who took a stand against child marriage in their own communities, on Monday spoke of the need for education, better health, ending violence and gender discrimination and an end to the practice of child marriage on four community radio and one FM station in the state.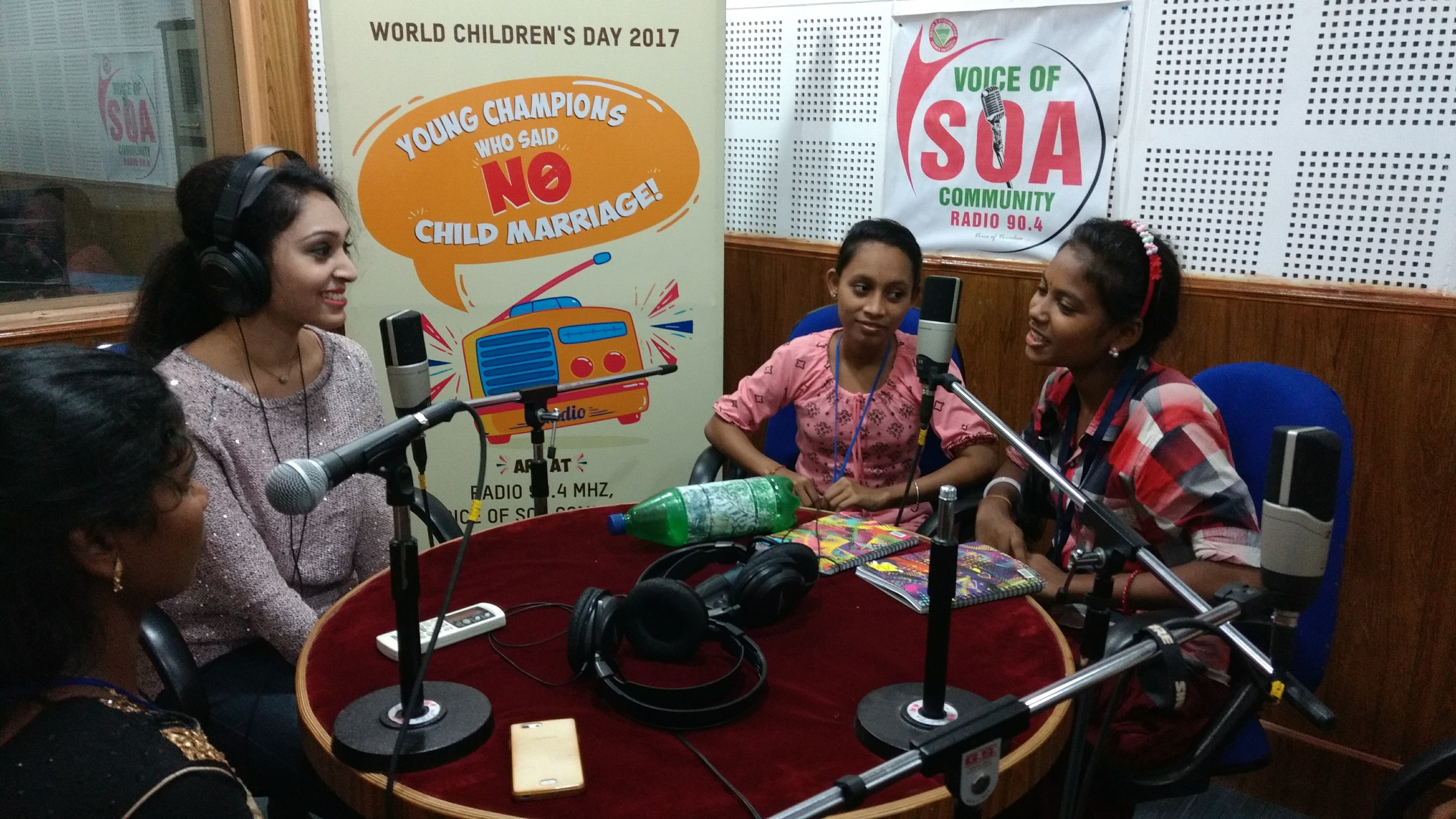 As a part of the UNICEF-led World Children's Day commemoration in Odisha, these children from Kandhamal, Koraput, Dhenkanal, Keonjhar, Rayagada,Puri and Khorda, were heard on Radio Choklate, FM channel in Bhubaneswar and community radios stations – Voice of SOA in Bhubaneswar, Radio Dhimsa in Koraput, Radio Namaskar in Konark and Radio Muskaan in Phulbani in the state.
November 20 – World Children's Day is commemorated as the anniversary of the adoption of the Convention on the Rights of the Child. This year globally,UNICEF is observing the day as a children's 'takeover' of institutions such as media, corporates, schools etc., with the aim that  through these platforms, voices of children around the world speaking about their rights and concerns will be heard and amplified, according to a press release.
In Odisha, the collaboration with radio stations (community radio and FM) gave these children an opportunity to share their stories and experiences, giving voice to thousands of their peers who are married early, are unschooled and unprotected.The initiative this year is in partnership with Action Aid, with whom UNICEF advocates to end the practice of child marriage in the state. Children from who refused child marriage are empowered as champions to end this practice in their communities.
Chief of Field Office, UNICEF Odisha, Yumi Bae said, "Concerns expressed by the children are real. They must be heard and respected as they guide us in making this world a better place for every child. We are extremely grateful to all the radio stations that partnered with us here in Odisha, giving the children the space to talk, interact and learn."
Describing her experience, 17-year-old Minakhi Manjari Ganta from Rayagada district said, "I had never imagined that I would get a chance to learn the things that I have learnt today about a radio station. I sang a song with a message for the rights of women and narrated a story on-air. We also spoke to radio jockeys who were very encouraging."
Sixteen-year-old Anil Pradhan from Kelapada village, Kandhamal, said, "This was a new experience for me. In the radio program, we spoke about child marriage, how it affects health, our childhood and education.  I am very happy and hope it will be helpful for the parents, community and audiences who are listening to our programme on the community radio."
"Children themselves are now champions against child marriage. Opportunities like this through community and FM radio gives them a voice that reaches many more people to stand against the practice, said Regional Manager, ActionAid, Bhubaneswar, Debabrat Patra.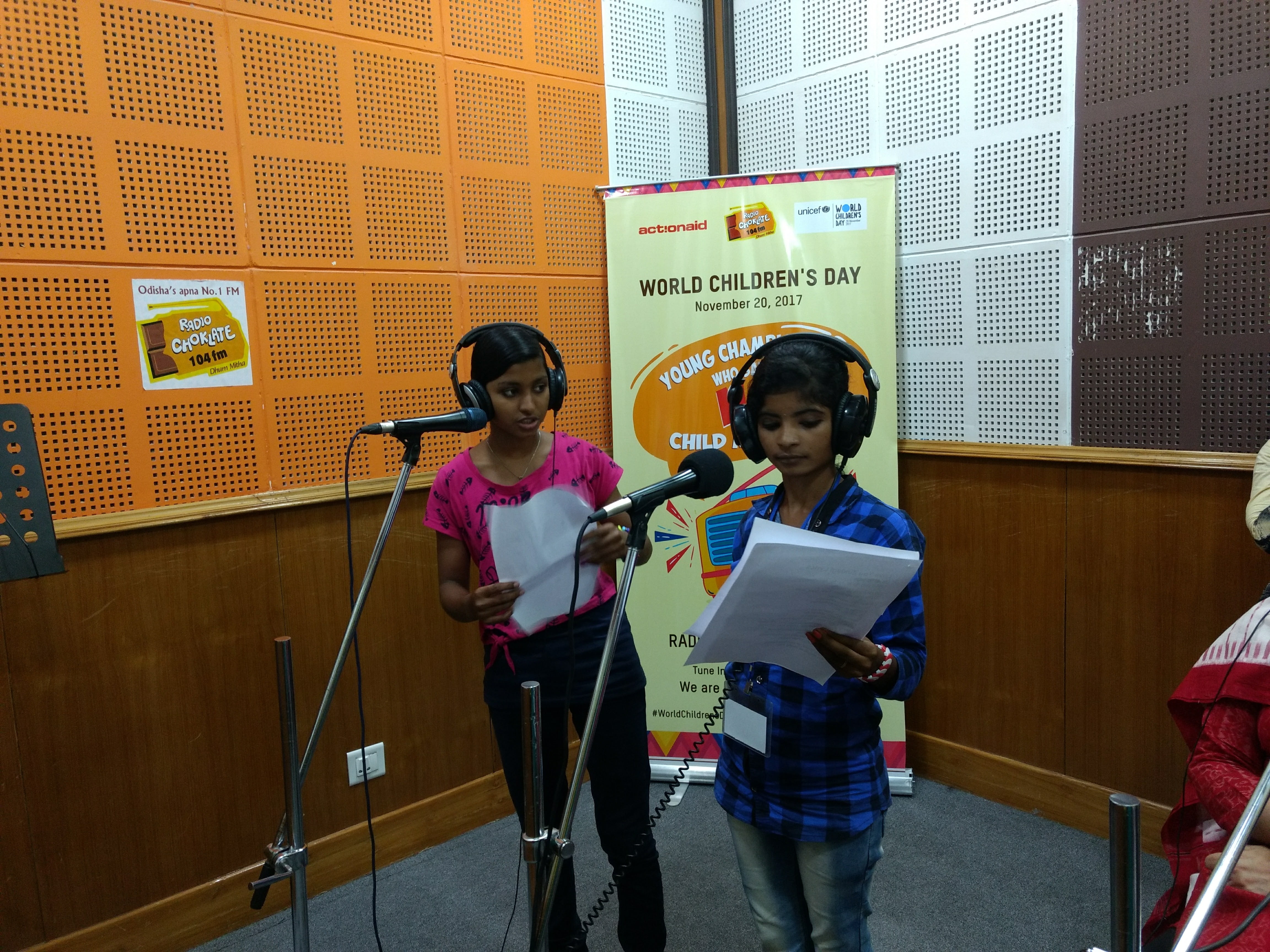 Executive Director, Sambad Group and Head, Radio Choklate, Tanaya Patnaik, said, "We are very excited to collaborate with UNICEF on the occasion of World Children's Day on a radio program where children speak about their concerns as well as take over the entire station and manage the show. As future leaders of a very difficult world with demanding challenges, our children need to be empowered to speak out and carry out varied roles and this show would only be a foreshadow of that."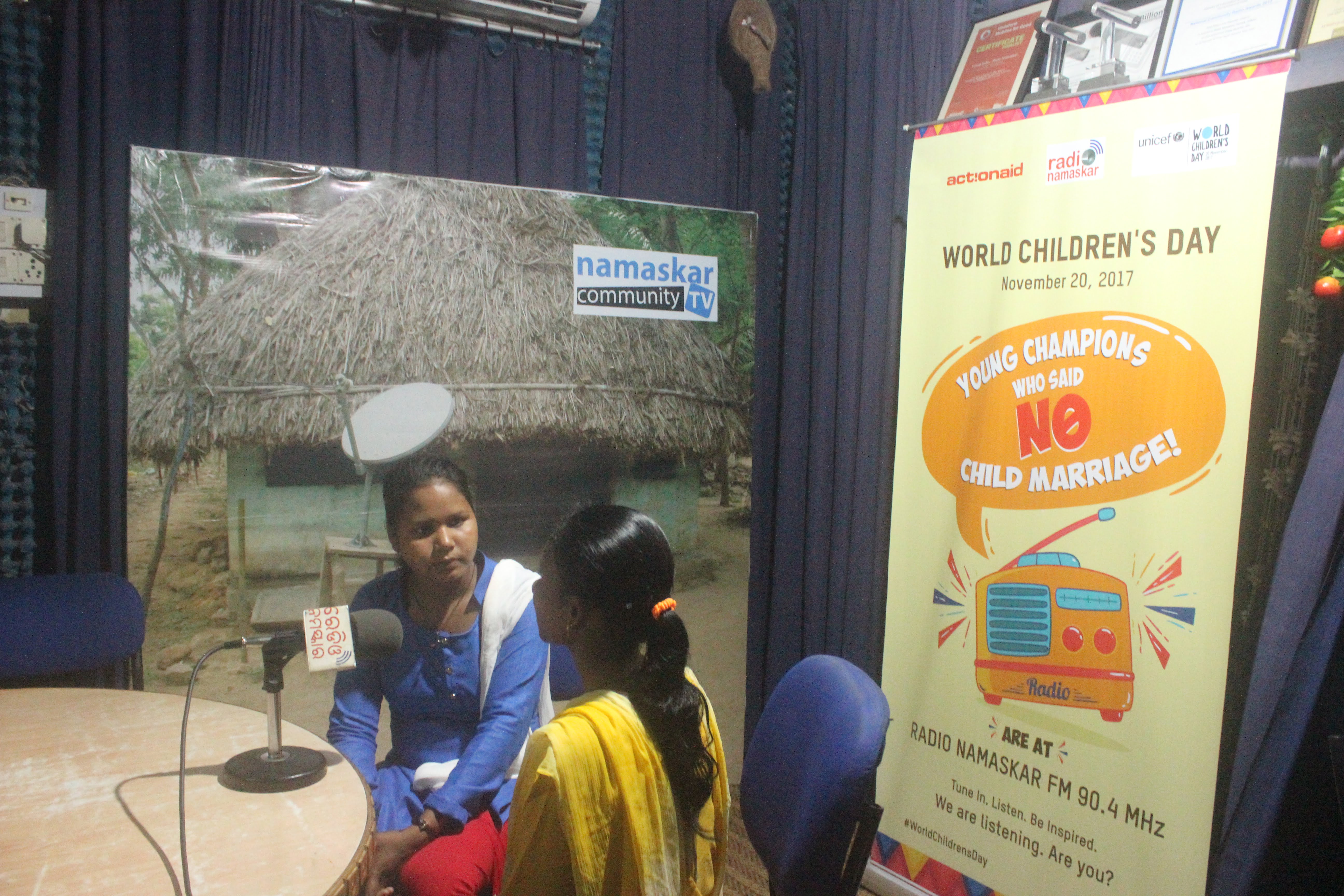 Speaking on the children's participation in community radio programs, Chairperson, Namaskar Community Media Network, N A Shah Ansari said, "This is the unique initiative that will encourage the children for better citizenship in future. The campaign will also give boost to the no-child marriage movement."