As promised in the previous episode of this series, this article will continue its ode to Anuradha Paudwal who relinquished her crown at the peak of her career in the 1990s. We will trace her musical journey beyond her first tryst with fame in 1984, the struggle after the Filmfare awards, the abrupt exit and the second innings.
Anuradha Paudwal (continued …)
The movie "Hero" in 1984 had brought in the well-deserved fame and a Filmfare award nomination 11 years after her debut in "Abhimaan" and nine years after her foray into mainstream Bollywood music in the movie "Kaalicharan" (the movie that gave screen villain Ajit his iconic lines – saara shehar mujhe Lion ke naam se jaanta hai).
A year later, in 1985, she sang "Mera mann baaja mridang" for the controversial Rekha starrer "Utsav". Utsav was a blockbuster failure and there was nothing significant apart from the song "Mann kyon behka re" sung by the legendary siblings, Lata Mangeshkar and Asha Bhosle. The other songs did not make a mark with the masses but the complexity of its music composed by Laxmikant Pyarelal had its admirers among the classes.
Filmfare Award
To her own surprise, Anuradha won her first Filmfare award for female playback in 1986 for the song "Mera mann baaja mridang" from Utsav even though Suresh Wadekar had a larger portion in the song. This song also had few lines from a struggling Udit Narayan who was yet to be noticed by the audience and major composers but Anuradha, who had a knack for identifying talent and in her stronger years with T-series, helped introduce many talents, had noticed Udit's talent and would go a long way in advancing his career in the future.
Height Of Popularity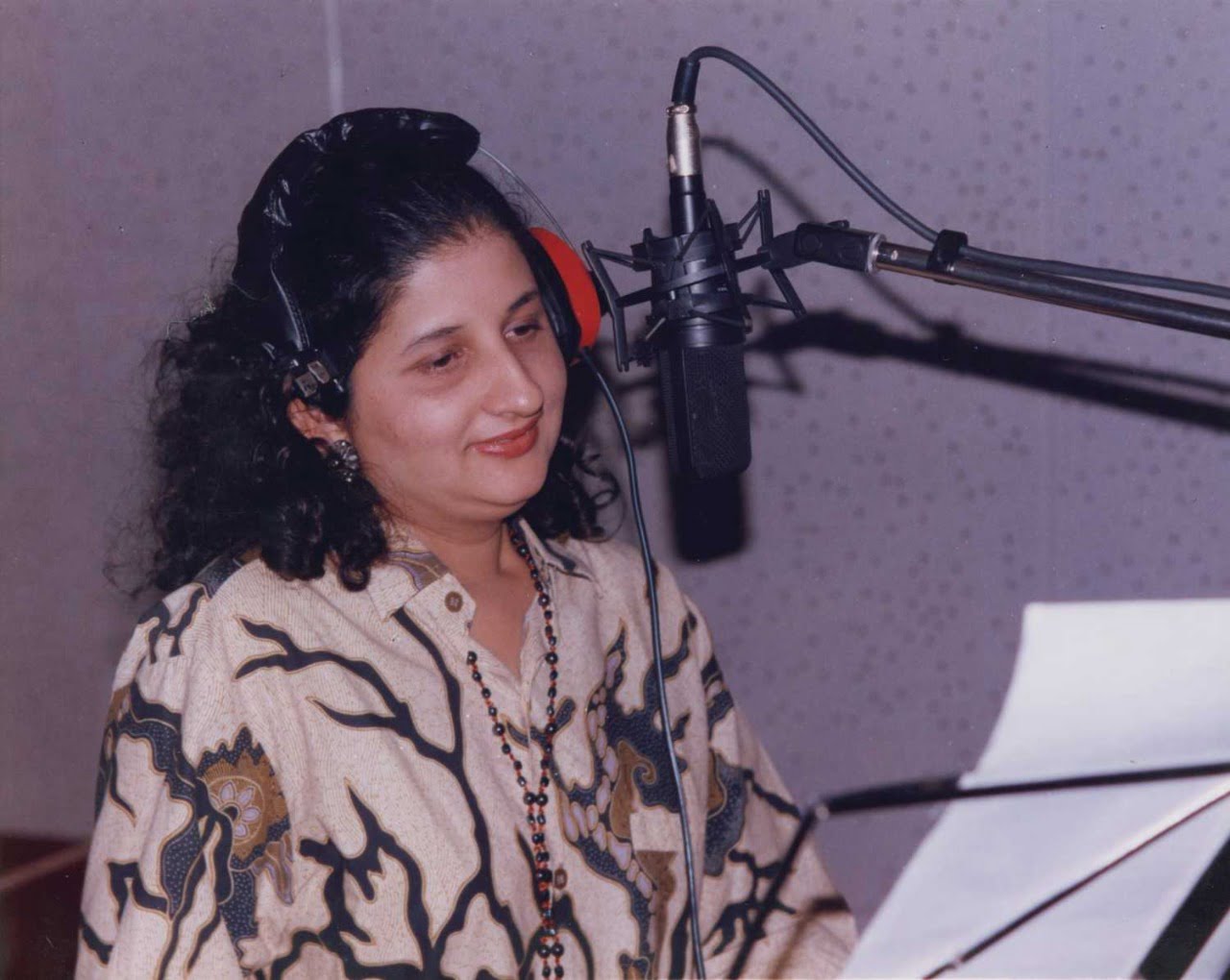 Apart from singing for her mentors Laxmikant Pyarelal in 1985, she also sang 'Hum Naujawan' in Dev Anand's movie of the same name and the melodious 'Na Hoti Dosti Tumse' in Rajesh Khanna's Awaara Baap with Suresh Wadekar for the legendary composer R D Burman.
Another song that became popular during Holi was 'Saat Rang Mein' from the Smita Patil starrer Aakhir Kyon? composed by Rajesh Roshan. After the success of Hero, Anuradha Paudwal was not only a preferred dubbing artist for Laxmikant Pyarelal, she was also a preferred singer. Anuradha sang the popular and immensely mellow 'Dil Bekarar Hai' with Mohd Aziz in Jackie Shroff's Teri Meharbaniyan, and the peppy solo 'O Meri Khwabon Ki' in Subhash Ghai's Meri Jung for Laxmikant Pyarelal.
Her mentors continued to support her even amidst news of Lata Mangeshkar and Asha Bhosle getting insecure and their backlash and fury on the composers and producers opting for Anuradha. In the same year, Anuradha was paired yet again (after Hero) with Manhar Udhas for songs for the movie Mera Jawaab, which had the on-screen pair of Jackie Shroff and Meenakshi Sheshadri. The movie failed and with it, it's music gradually disappeared from the audience's memory. The movie had the melodious 'Mere Liye Zindagi' sung by Anuradha and Manhar Udhas and it disheartened Laxmikant Pyarelal that the composition did not find an audience. They rehashed the song later in the Sridevi and Sanjay Dutt starrer Gumrah in 1993 as 'Yeh Zindagi Ka Safar', which performed fairly better.
Raw Deal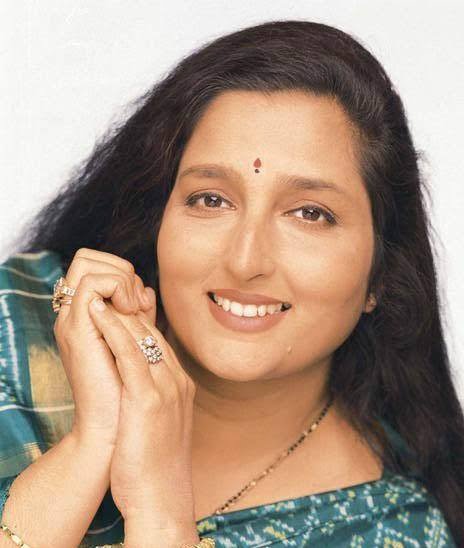 With the apparent backlash from the Mangeshkar siblings, not many songs apart from the few mentioned here, were coming her way and many of her songs were getting dubbed by the legendary sisters much to her chagrin.
One such movie in 1985 where many of her's and Kavita Krishnamurthy's songs were dubbed was the Mithun starrer Pyar Jhukta Nahin whose music, composed by Laxmikant Pyarelal, was a massive hit but the audience only heard a glimpse of Anuradha's voice in the song 'Tumhe Apna Saathi Banane' at the beginning of the song where she sings "Hazaaron Aandhiyan Aaye". The remaining female portions of the song had been dubbed by Lata Mangeshkar. It was a song that later featured in many 80s music lovers' playlist but due to lack of credits on cassettes was remembered only as a Lata & Shabbir's duet.
Changing Times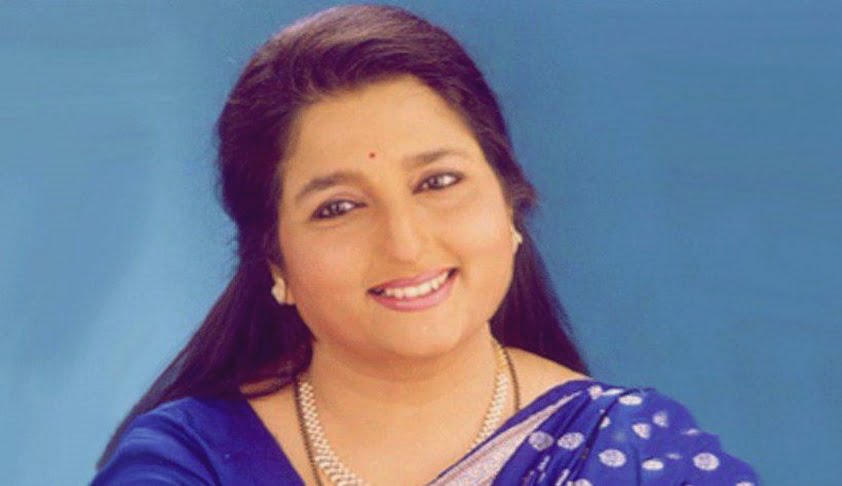 The 80s saw the rise of Asha Bhosle surpassing her elder sibling especially through her association with RD Burman and Bappi Lahiri. The waves created by Anuradha in 1984 and 1985 were rubbing the monopoly of the Mangeshkar siblings in the wrong way. So vicious was the resulting backlash on Anuradha's career that it spilled over to her husband and apparently Arun Paudwal, who was a music arranger for many of the leading composers of the time, would be humiliatingly asked to leave the studio whenever Asha Bhosle entered it.
Composers felt threatened that if they took Anuradha's side, they would land in trouble with Asha Bhosle and Lata Mangeshkar and thus work started to dwindle for Anuradha. After Hero, Anuradha had expected a deluge of songs to come her way but apart from the backlash, the movie scenario had also changed. Multi-star cast films were being made and there would be very few solo or duet songs.
In 1986, amidst the depredation from the Mangeshkar sisters, her mentors, Laxmikant Pyarelal, continued to give her work. She sang all the songs for Nagina but while most of them were controversially dubbed by Lata Mangeshkar, the song 'Tune Bechain Itna Ziada Kiya' with Mohd Aziz was retained in her voice and became immensely popular. The Nagina dubbing episode went on print where Anuradha vehemently spoke about the monopoly of the Mangeshkar sisters – an act which invited further onslaught on her career.
The same year she also sang the melodious 'Behke Behke Ye Jazbaat' with Mohd Aziz in the Anil Kapoor starrer Aap Ke Saath and 'Maine Rab Se' with Manhar Udhas in the multi-starrer Subhash Ghai hit 'Karma' composed by Laxmikant Pyarelal both of which found popularity.
Mentors, As Pillars Of Strength
Laxmikant Pyarelal stood by her amidst all these controversies and continued to provide her opportunities in 1987. For them she sang "Keh De Zamane Se" with Mohd Aziz in the Rajesh Khanna starrer Nazrana and "Taaron bhari thi raat" and "Khule Aam Kehte Hai" (with Mohd. Aziz) in Anjaam,  which failed to make a mark but she found appreciation among the audience for "Tu Naache Main Gaoon" (with Suresh Wadekar) in Parivaar, "Jab Pyar Kiya" (with Mohd Aziz) in Watan ke Rakhwale, "Soja Chup Hoja" and "Radha Rani Na Jaiyo Ri" in Sansaar and also sang the popular parody song of Mr India with Shabbir Kumar. The same year, she also sang the title song of "Jeete Hain Shaan Se" with a gamut of singers for Anu Malik but the most popular of them all was the melodious "Chhodenge Na Hum Tere Saath" with Mohd Aziz for Ravindra Jain in the Govinda starrer Marte Dam Tak.
A Turn In Career
In the middle of these conflicts, with diminished opportunities, Anuradha had started considering leaving the film industry. The ever-religiously inclined Anuradha wanted to explore the bhajan market but music labels like HMV, Polydor, Music India did not agree to produce a private bhajan album as their market research told them that there was no market for bhajans. An invitation to be the chief guest at a T-series cassette launch would be the beginning of a new era in her career.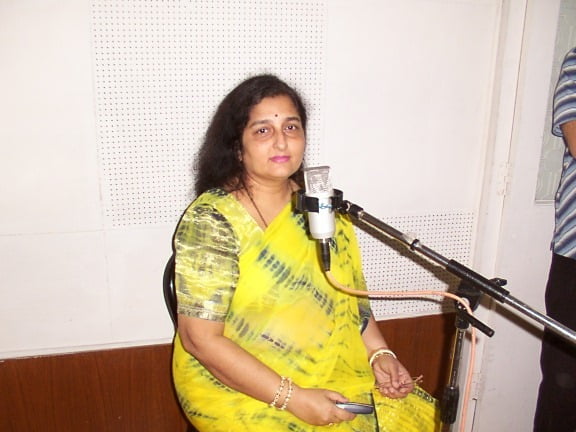 Impressed by her voice, Gulshan Kumar's father, Chandrabhan Kumar, asked her to sing for T-series. Anuradha agreed but also shared a mutual interest for bhajan albums to which Gulshan Kumar immediately agreed. T-series, which had started in 1984 and was surviving due to its clandestine counterfeit operations producing bootlegged versions of albums of other music labels especially HMV, was trying to find its own legitimate space in the music industry. The year 1987 had seen the music release of Qayamat Se Qayamat Tak and history was in the making for T-series.
Come 1988, with the success of QSQT and the movie's music selling 8 million albums, T-series had finally declared its legitimate arrival on the music scene. The leader in the blank cassettes segment, T-series, had now also become a formidable music label for its opponents.
What A Comeback With Bhajans!
This year gave Gulshan Kumar and T-series three allies – Anuradha Paudwal, Anand Milind and Udit Narayan. Anuradha's musical acumen and Gulshan Kumar's marketing brilliance combined together became a force to reckon with in the next few years. While challenging the monopoly of the Mangeshkars, the duo brought in a revolution in the music industry. Anuradha, as one of the directors of the company was equally responsible for the rise of T-series and Udit Narayan after 1988. She, along with Gulshan Kumar were instrumental in getting many unknown playback singers to the fore, including Kumar Sanu, Abhijeet, Vipin Sachdeva, Sonu Nigam, Bela Sulakhe and Babla Mehta through the myriad of tribute albums for legendary singers and composers.
The marketing genius that Gulshan Kumar was, he priced these tribute albums at a third of the HMV, Polydor, MIL albums using his company's existing strength of owning the largest market share in blank audio cassettes and with crystal clear orchestra, these tribute albums satisfied the appetite of a majority of the audience who was not able to afford the originals.
New music directors, including Nadeem Shravan and her husband Arun Paudwal, were introduced to the music world. The duo also captured the untrodden bhajan market through local marketing – from Durga Vandana and Jagannath bhajans for the East to Sai Vandana and Ganpati Aarti for the West, Devi Bhakti songs for the North to Vishnu sahasranam, Hanuman Chalisa and Shiv Purana and many more.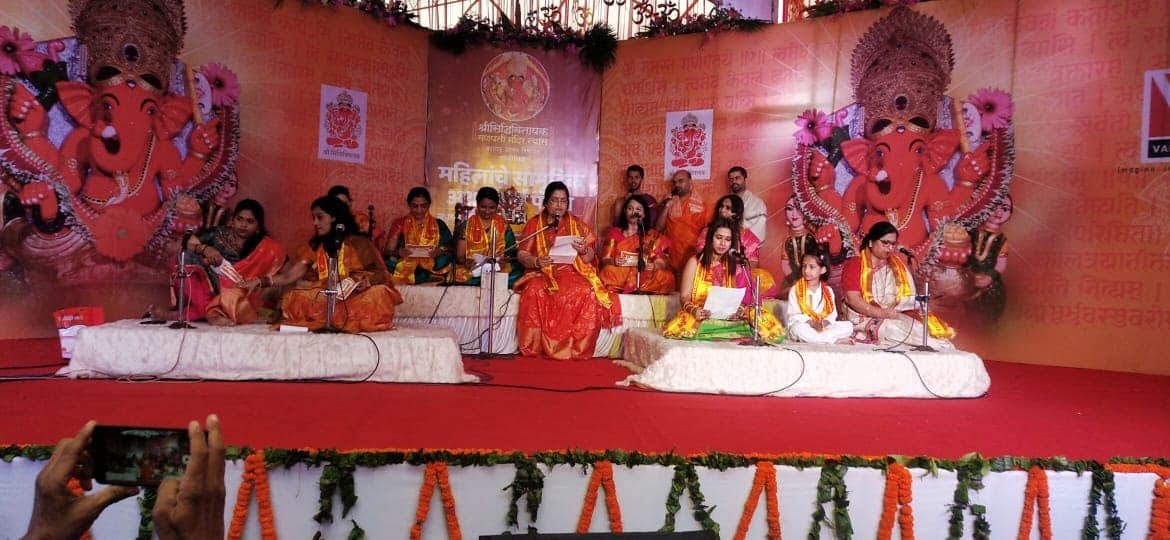 So overpowering was the brand that the veteran labels like HMV, MIL and Polydor as well as the newcomers Tips and Venus were hardly finding any breathing space. Singers were now getting their due and Anuradha Paudwal became the first to have her photograph adorn music cassette covers – a trend that did not exist prior to the advent of T-series.
Under the music label of T-series, and with the help of her mentors Laxmikant Pyarelal, Anuradha Paudwal churned many popular songs in 1988 – 'Aaj Phir Tum Pe' (with Pankaj Udhas) in Dayavan , 'Na Na Karte' (with Udit Narayan and Mohd Aziz) in Ram Avtar, 'Phool Ghulab Ka' (with Mohd Aziz) & 'Sasuji Tune Meri Qadr Na Jani' in Biwi Ho To Aisi, 'Kehdo Ke Tum' (with Amit Kumar) in Tezaab, 'Jeevan Sukh Dukh Ka Ik Sangam' (with Kishore Kumar) in Paap Ko Jalakar Raakh Kar Doonga.
She also sang the song 'Main Gaun Tere Liye' in the horror flick Woh Phir Aayegi for Anand Milind. The purported Mangeshkar shackles had been broken, the struggle was no longer for survival but for the crown.
On A Roll
The year 1989 saw an influx of many new composers with Gulshan Kumar's support, leading composers of yore, RD Burman, Bappi Lahiri, Kalyanji Anandji and even Laxmikant Pyarelal were gradually finding lesser work and so were their favourites – Asha Bhosle and Lata Mangeshkar.
Gulshan Kumar used this opportunity to create a "Music Bank" wherein he would purchase composition from these legendary composers and struggling composers and use them in various movies and bhajans with due acknowledgement.
T-series also started making low budget videos for television and video cassettes with songs from this music bank. One thing stood common in all these compositions – the constant presence of Anuradha Paudwal. One such movie was Laal Dupatta Malmal Ka with songs composed by Anand Milind. The songs 'Kya karte the sajna' and 'Na jane kyon dil bekaraar' with Anuradha Paudwal and Udit Narayan became hugely popular.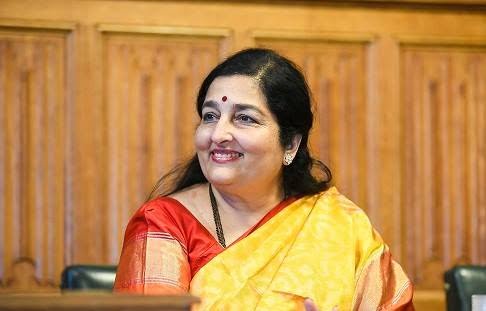 The year 1989 had now started to see the rise of Anuradha Paudwal with various hit compositions from her mentors, Laxmikant Pyarelal –  "Tera Naam Liya" & "Bekadar Bekhabar Bewafa" in Ram Lakhan,  "Kitne Sawan Baras Gaye", "Hum Tumhe Itna Pyar Karenge "  & "Baliye Ni Chal Chaliye" (with Mohd Aziz) in Bees Saal Baad, "Maine Tujhse Pyar Kiya Hai" (with Mohd Aziz) in  Suryaa: An Awakening and the immensely melodious "Tere Naina Mere Nainon Se" (with Suresh Wadekar) in Bhrastachar. The same year, she also sang Kaise Main Bhulaoon in the horror flick Purani Haveli for Ajit Singh with Udit Narayan and Aag Lag Rahi Hai (with Mohd Aziz) in the Anil Kapoor starrer Rakhwala for Anand Milind.
The same year Nadeem Shravan composed 24 songs many of which were accepted for a Mahesh Bhatt movie and were kept for use at a later point.  These songs were to create history and bring the composer duo to the fore and initiate Anuradha's official claim to the coveted female playback crown.
The first lot of these compositions were used for Aashiqui, which released in 1990 and the next lot was used for Dil Hai Ke Maanta Nahin. The Aashiqui soundtrack album sold 20 million units, making it the best-selling Bollywood soundtrack album of all time and Anuradha won the Filmfare award for 'Nazar ke Samne'.
This year saw many hits from Anuradha in the movies Mahasangram, Swarg, Dil, Bahaar Aane Tak, and Doodh Ka Karz. As legendary composer O P Nayyar shared in an interview, "Lata is finished. Anuradha has replaced her", Anuradha had now replaced the monopoly.
Controversies In Singing World
Life had come a full circle – the allegations of monopoly and dubbing that she was making against Lata Mangeshkar and Asha Bhosle in the early 80s were now being made against her by singers like Alka Yagnik.
 One such infamous controversy involved her dubbing of the songs of Dil, which were initially sung by Alka. She even went on to avenge her misfortunes by dubbing Lata Mangeshkar's song in Radha Ka Sangam citing that her voice suited the heroine better – an unthinkable act for any Bollywood singer of the 90s.
Unperturbed by the controversies, Anuradha went on to churn many hits in 1991 in Saathi, Naagmani, Dil Hai Ke Manta Nahin, Saajan, Pyar Bhara Dil, Meet Mere Mann Ka, Phool Aur Kaante, Sadak, Jeena Teri Gali Mein.
Dil Hai Ke Manta Nahin brought home the third Filmfare award. She went on a hat-trick with her fourth Filmfare award (third in consecutive years) with "Dhak Dhak" for Beta in 1992. Her personal life took a downturn with his husband's illness and death in 1991 and she started to cut down on her singing.
Although her completed assignments continued to give her hits in Yaad Rakhegi Duniya, Junoon, Jaanam,  Sangeet, Radha Ka Sangam in 1992 and  Aaja Meri Jaan and Sahibaan in 1993, the personal loss had taken a toll on her and she decided to cut down on singing for movies and ventured completely into singing religious songs.
Taking A Step Back
At her peak, Anuradha Paudwal announced that she would exclusively sing for T-series. This stand benefited Alka Yagnik who had already found success with the songs of Saajan and got a thrust through her newfound association with Nadeem-Shravan and Anu Malik, who had stopped composing for Gulshan Kumar due to some differences.
As she stopped singing songs for films and concentrated more on devotional and cover-version albums, Anuradha harmed her immensely successful career. For almost five years, Anuradha Paudwal did not sing for many films and for any other music company spelling the end to her first innings.
Lukewarm Reception To Comeback
After about five years, she restarted her playback career in 1996. The comeback was also marred by controversies of her dubbing Alka Yagnik's songs in Itihaas. She sang a few hit songs for her old music directors but the reception for her comeback was mild and Alka Yagnik had already been the queen bee for long enough to resist any competition with equal might.
Within a year of her comeback, her friend and partner, music moghul Gulshan Kumar was brutally murdered and T-series and her life was in shambles affecting her career and emotional state to continue in film music.
Although Anuradha has significantly cut back on singing for films, she has continued with her popularity for singing devotional songs and creating devotional albums, which ultimately remains her forte. Anuradha has received a National Award and has won four Filmfare awards for Best Female Playback singer of which three were in consecutive years from 1990 to 1992.
Songs from Anuradha Paudwal's struggling years (1985-90) that you might have missed and are worth revisiting:
Dil Bekarar Hai (with Mohd Aziz) from Teri Meharbaniyan (1985)
Mere Liye Ye Zindagi (with Manhar Udhas) from Mera Jawaab (1985) – Later copied in Gumrah (1993) as Yeh Zindagi Ka Safar
Na Hoti Dosti Tumse (with Suresh Wadkar) from Awara Baap (1985)
O Mere Khwabon Ke from Meri Jung (1985)
Behke Behke Yeh Jazbaat (with Mohd Aziz) from Aap Ke Saath (1986)
Maine Rab Se Tujhe (with Manhar Udhas) from Karma (1986)
Jab Pyar Kiya (with Mohd Aziz) from Watan Ke Rakhwale (1987)
Chhodenge Na Hum Tere Saath (with Mohd Aziz) from Marte Dam Tak (1987)
Tu Naache Main Gaoon (with Suresh Wadkar) from Parivaar (1987)
Taaron Bhari Thi Raat from Anjaam (1987)
Aaj Phir Tumpe Pyar (with Pankaj Udhas) from Dayavan (1988)
Phool Ghulab Ka (with Mohd Aziz) from Biwi Ho To Aisi (1988)
Jeevan Sukh Dukh Ka (With Kishore Kumar) from Paap Ko Jalakar Raakh Kar Doonga (1988)
Kehdo Ke Tum (with Amit Kumar) from Tezaab (1988)
Maine Tujhse Pyar Kiya Hai (with Mohd Aziz) from Suryaa (1989)
Thare Vaste Re Dhola (with Alka Yagnik, Kavita Krishnamurthy) from Batwara (1989)
Kaise Main Bhulaoon from Purana Haveli (1989)
Na Jane Kyon Dil Bekarar from Lal Dupatta Malmal Ka (1989)
(The writer is a doctor and public health specialist by profession but a passionate music enthusiast with special liking for bollywood music from 80s and 90s. The views are personal)