Bhubaneswar: At a time when cyclone Amphan has triggered gale and rain in Odisha, our thoughts go back to the past when similar cyclones hit the state. Cyclones are no stranger to the people of Odisha. It has always been a cyclone prone state, having suffered cyclones in the immediate past as well as in the ancient times.
There is epigraphic evidence referring to cyclones during the rule of the great Kharavela in the first century BC.
The Hathigumpha Inscription (Elephant Cave inscription), from Udayagiri, near Odisha capital was inscribed by Kharavela, the then Emperor of Kalinga in India.
Kharavela inscribed about the storm in the third and fourth line in the Hathigumpha.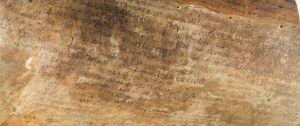 The Hathigumpha inscription consists of 17 lines in a Central-Western form of Prakrit incised in deep-cut Brahmi script on the overhanging brow of a natural cavern called Hathigumpha on the southern side of the Udayagiri hill.
In the very first year, Kharavela repaired the gates of Kalinga Nagari, the then capital of Kalinga, which had been destroyed by a storm,  spending thirty five hundred thousand (coins). informed eminent historian Dr Prafulla Kumar Mohanty.
Dr Mohanty is the president of Odisha History Congress.
The exact line was, "In the very first year of his coronation (His Majesty) caused to be repaired the gate, rampart and structures of the fort of Kalinga Nagari, which had been damaged by a storm, and caused to be built embankments for the cool tanks and laid out all gardens at a cost of thirty five hundred thousand (coins) and thus pleased all his subjects," informed Dr Mohanty.
Kalinga Nagari was devastated by cyclone in the fourth regnal (of the reign of a monarch) year of Kharavela.  The emperor had repaired the damaged houses of his kingdom, informed Archaeologist BK Rath.
"We have many proofs and a majority of scholars say that Kalinga Nagari is identified as modern Sisupalagarh," he added.