Claiming The Streets, Reclaiming Art
For today's generation of digital natives, selfies, Instagram accounts or filters to enhance photos is the norm, if not an obsession.
So it is not quite easy for those born after say, 2000 to imagine a time when families would actually visit a studio all dressed up on special occasions to get their photographs clicked or for a generation before that, call a photographer home.
Photographs were taken long before the camera became part of middle-class life. And when young women had to get married, they were taken to the nearby photography studio to get what was then known as a matrimonial photograph clicked.
Srota Dutta, an independent researcher, was standing at an auto-rickshaw stand outside her home in Garia, Kolkata when she chanced upon an advertisement that said something like "get your daughter married, get her photograph clicked by us." The picture of the demure smiling girl in the advertisement almost talked to her. Who is this woman? How does she feel about being used as a model? What did she think about getting herself photographed with the sole purpose of getting a groom? The questions did not stop…there were more.
Srota herself had seen beautiful photographs of her mother, aunt, other relatives, clicked from the 50s to the 70s, an era when black and white photographs ruled the market.
She was drawn to the images and decided to explore further. Could these photographs be viewed as works of art? Could she in some way create an ongoing dialogue between the photograph, the photographer and the 'model', and take this dialogue to the larger community and create a space for women to share their experiences?
"I am not an artist, but through this medium, I wanted to explore gender issues but realised that the task was huge, so I chose primarily Chitpur as my area as it is one of the oldest localities of Kolkata," says Srota, who is still working on her project and hopes to write a book on it one day.
The journey culminated in a community art project backed by Hamdasti, a non-profit run by a group of artists and cultural practitioners in Kolkata, to create a dialogue, centred around matrimonial photographs of young women clicked mostly in and around the studios of North Kolkata.
In the course of her journey, Srota has interviewed many women and photographers who looked back on a time when a photograph was the first medium of communication between a woman's family and that of the prospective groom. If a photograph was able to conceal flaws like patchy or dark skin, sparse hair, or short height or weight, the photographer had done his job. The brief was to make the prospective bride look as comely as possible, capturing the idea of Grihalakshmi or the selfless homemaker. All the photographs of the women, says Srota, have "long hair that had to be made visible with a braid drawn to the front, a demure expression, or a gentle smile rarely showing one's teeth."
Yet old photographers of the Chitpur area, whose studios she has been scouring for photographs have shared that their reputation was of utmost importance and they were loath to take up touch-up jobs. Their camera lens would not lie. At best they tried to use skillful lighting with a focus on the woman's face if she was dark-complexioned, or the photograph was clicked at a slight angle to make a feature like a broad nose less visible.
"Most large studios of the time had a changing room with a full-length mirror, a comb and talcum powder. Photographers would instruct their customers to shampoo their hair, give tips on the kind of saris to wear – silk or chiffon for women they considered overweight and starched cottons for the thin ones. Some even had artificial jewellery for their clients," says Srota.
What about the women in the photographs? Is she privy to some of their stories as well? Srota says, "I know about a young woman who refused to get married, so her parents took the photographer in confidence while getting her matrimonial photograph clicked. While some were uncomfortable posing in front of a stranger, others wanted to make the most of the opportunity to win a husband."
In a sense, though it might appear to be straight out of the pages of Jane Austen's 'husband-hunting comedies', the photographs serve as an art form and a valuable document of the era, with cultural practices that still find an echo in today's world. In the present, the pictures speak a thousand words and have catalysed reflections that Srota has been able to organise using them as a backdrop or draw out fascinating
"A legendary photographer dating back to the 70s was Samir Das of Calcutta Studio who was a perfectionist. Women were brought from far away areas to get matrimonial photographs clicked and he seemed to have perfected the art of getting everything from the look, to the lighting, to the expression just right," says Srota.
As part of the Hamdasti Project, Srota brought women and photographers today to create a community dialogue and unpack the narratives in the old mansions of North Kolkata on the photographs she has been able to collect and curate and organise peep shows in the streets of Chitpur to involve the local community in her work, while sharing stories over adda and cups of tea.
"The idea is to take my work to the community, as that is where any form of art essentially belongs."
Hamdasti also organised an exhibition at Max Mueller Bhavan where she gave a talk and studios exhibited their priceless collection of old cameras.
As part of the community interactions around the peep show, an exhibition was held at Rabindra Kanan that was earlier known as Company Gardens. In the exhibition, copies of posters of women were placed with thought bubbles and the audience was asked to answer the question, "What is she thinking?" Other posters asked the audience, "Is she a Grihalakshmi?" Similar interactive discussions were held in the market, on streets corners, and even in front of a Saraswati pujo.
"In fact, there was a picture of me in my usual short hair, no make-up casual look, with the same question, 'Ini ki Grihalaokkhi?' or 'Is she a Grihalakshmki?'" says Srota.
The aim of Hamdasti was to create a platform for sharing under-represented stories, not only from the artist's perspective but from the community. It was a means to explore ways to bring different people together, find ways to engage with the community, with history, be more active in public space and create spaces for interactions – in a sense, cross the boundary between art practice and research, says Sumana Chakraborty of Hamdasti, who holds a Diploma in Art and Design from Srishti School of Art Design and Technology, Bangalore and a Masters Degree in Design from the Harvard University Graduate School of Design.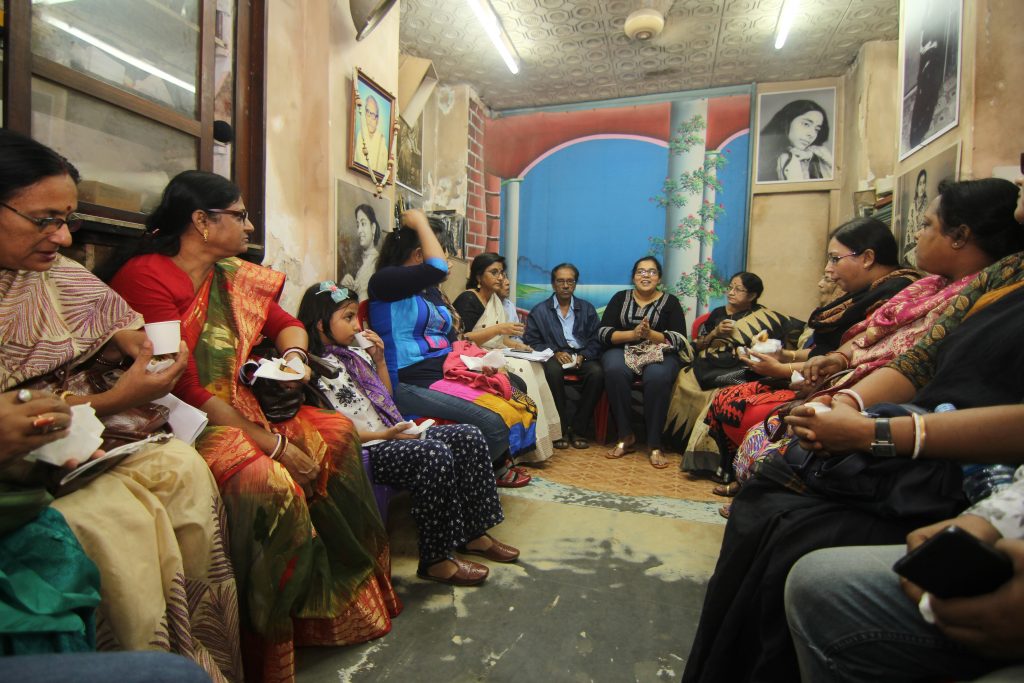 Srota's work, like some of Hamdasti's other projects that looked at courtyards in the old homes or mansions of North Kolkata, like Paul Bari, was about using the past to create a dialogue with the present.
The audience viewed photographs of women framed as wives or mothers and listened to recorded conversations and sound clips.
A police station as a gaming zone
Jorabagan police station.
" As members of the neighbourhood interacted with the cops, a dialogue started taking shape on how one defines the city and its character and practices. What does one sacrifice for speed and efficiency?
Interestingly, at one point in the game, a police officer shares a chicken curry recipe with the audience and generates a conversation amongst the girls and their grandmothers and finds out more about their surroundings and the bygone eras of their grandmothers.
Since 2014, Hamdasti has also been offering fellowships to those who wish to explore the role of art practices in communities and in public spaces in the neighbourhoods around Chitpur Road, Kolkata, apart from hosting the Chitpur Local Festival.
Now, in its third edition of the Chitpur project, Hamdasti is partnering with past collaborators from Chitpur Local and has launched the Connected Locals Fellowship, supporting the development of year-long projects at different community spaces in the neighbourhoods around Chitpur. Interestingly, this includes one fellowship at the traffic guard that is hosted by the Kolkata Police, one in local heritage residences hosted by the Mitra and Dutt families of the area, and one 'Open Fellowship' that can be based in any community space in the neighbourhood. The projects will culminate in a collective final exhibition or public art festival at the community spaces in March 2020.