CPI (Maoist) Confirms Death Of RK; Is The Outfit Nearing Its End With Loss Of 3 Top Leaders In 2 Years?
Bhubaneswar: After much speculation, the CPI (Maoist) on Friday confirmed the death of its leader Akkiraju Haragopal alias Ramakrishna (RK).
According to the release, RK died of kidney ailment at 6 pm on October 14 and his body was later cremated by the Maoists. However, there is no information about the place of his death.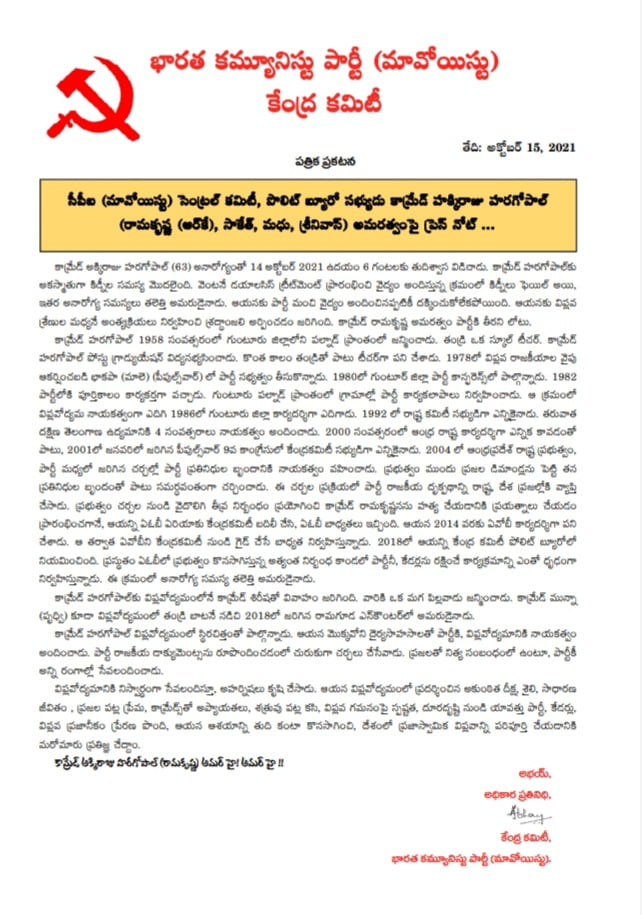 It is believed the top Maoist leader succumbed to chronic illness in the forests (Dandakarnya) in South Bastar of Chhattisgarh after being treated for kidney disease for the past several days.
Police had earlier confirmed his death. "Three central committee members – Ramanna, Haribhusan and now Ramakrishna – of the banned outfit have died in Dandakarnya in the last two years due to chronic medical illness," said Dantewada SP Abhisekh Pallav.
With the supply chain choked, there is a severe shortage of medicines for senior leaders suffering from. comorbid medical conditions, he added.
A member of the Central Committee of the Communist Party of India-Maoist (CPI) and in charge of the Andhra-Odisha Border Special Zonal Committee, RK carried a combined reward of Rs 1 crore on his head.
A native of Tumrupeta in the Guntur district, he had been actively involved in reconstructing the Maoist movement in the AOB. He was the chief of the CPI central committee till 2019. The charge was handed over to Nambala Keshava Rao due to RK's failing health when his movement was confined to a particular pocket, the cut-off area in Malkangiri district.
THE LIST OF ATTACKS INVOLVING RK IN ODISHA
>> Abduction of the then Malkangiri collector R Vineel Krishna on February 16, 2011
>> Police armoury in Koraput district and Nayagarh district in 2004 and 2008 respectively
>> Attack on Chitrakond water reservoir in which 34 greyhounds jawan of Andhra were killed. The boat, carrying over 50 jawans, including two Orissa Police jawans, capsized near Janbai when armed Maoists opened fire at the jawans returning after a combing operation in the cut off areas on the Orissa-Andhra Pradesh border.
Also Read:  Curtains Down On Elusive Maoist Leader RK, Who Turned Odisha's Chitrakonda Into His Bastion