The Statue of Liberty, New York and Ranganathswamy Temple of Tamil Nadu are not even remotely connected with Durga Puja but puja committee organisers in Cuttack have ensured that their replicas become a big draw during the puja celebration.
At a height of 55 feet, the replica of Ranganathswamy Temple with several deities, is quite an imposing structure. The Khannagar Durga Puja Committee has left no stone unturned to make it as attractive as possible. This is the first time that a temple from South India has been recreated in Cuttack.
It is the result of almost one month of round-the-clock effort of around 25 artisans from West Bengal's Midnapore. The bamboo, cloth and thermocol pandal has been made at a cost of Rs 5 lakh.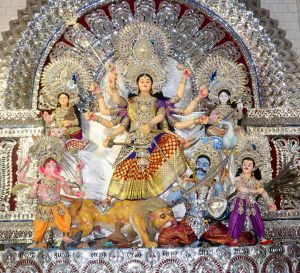 Giving finishing touches to the massive gates, artist Subhol Mandal said cutting thermocol with sharp knives and adding colours was the most painstaking task.
"The colours will attract visitors. Such a replica has never been done in Cuttack during Dussehra before. It will be a treat to the eyes," said secretary of the puja committee, Prafulla Sahoo.
The replica of the Statue of Liberty erected by Malgodown Puja Committee is bound to become a great selfie spot this puja season.
"It has been made with ply, bamboo and fibre and a lot of illumination," said Sayed Nizamuddin Ahmed, secretary of the puja committee.
"The puja committee will also be organising orchestra programme for four days and there will be special focus on crowd management," said Malgodown Puja Committee president, Kailash Chandra Patra.
There are a total of 170 pandals in Cuttack this year. They are all trying to outdo one another with innovations. While a community puja organised by Bidanasi Puja Committee has used 190 kg silver, worth Rs 1 crore to make the a 'chalchitra', the other has used 250 kg silver worth Rs 2 crore!
The festivities began on Friday with an invocation to the Goddess 'Bilwadibasa' and will end on Vijay Dashami on Tuesday with 'Aparajit Puja'. The Goddess will be immersed on Wednesday.