Bhubaneswar: Timely efforts helped save two lives in Odisha's Angul districts, which has been experiencing heavy showers due to a deep depression over the Bay of Bengal, on Tuesday morning.
"An elderly woman and another person were rescued by District Fire Officer PK Dhall and his team from Lingarajodi river at Hulurusinga in Odisha's Angul this morning. They were marooned in the floodwaters and had taken shelter on a rock on the river bed," the district collector tweeted.
Talcher in Angul has recorded the highest 394 mm in the last 24 hours. While extremely heavy rain battered 17 places in Odisha, 35 places experienced very heavy rain and 45 heavy rain, the Bhubaneswar Meteorological Centre said.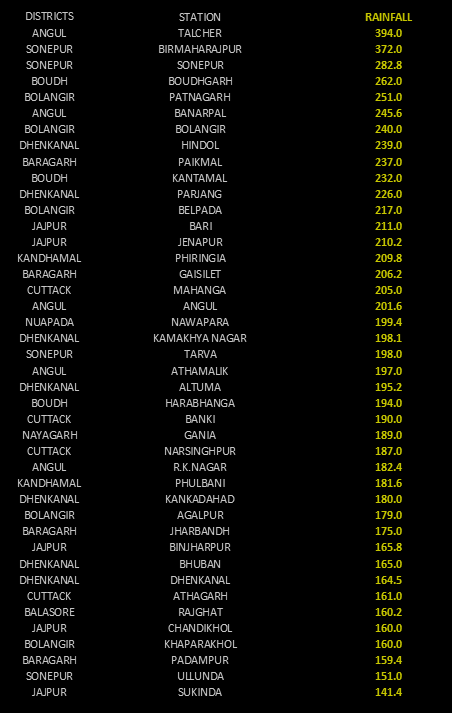 Meanwhile, the deep depression over north interior Odisha has moved further west-northwestwards during the past six hours with a speed of 21 kmph and lay centred at 5.30 am on Tuesday over north interior Odisha and adjoining north Chhattisgarh, about 50 km west-northwest of Jharsuguda (Odisha) and about 130 km south-southeast of Ambikapur. "It is very likely to continue to move west-northwestwards across north Chhattisgarh and Madhya Pradesh during the next 48 hours. It is very likely to weaken into a depression during the next 6 hours," the IMD said in its latest bulletin.
Under its influence, heavy rainfall is very likely to occur at one or two places in Bargarh, Jharsuguda, Sundargarh, Mayurbhanj, Bhadrak, Balasore, Kendrapada, Jajpur, Deogarh, Sambalpur, Nuapada, Nabarangpur, Balangir, and Keonjhar.
Most places in Odisha are likely to experience light to moderate rain or thundershower, the IMD said.
WIND WARNING
Surface wind speed reaching 40 -50 kmph gusting to 60 kmph very likely along and off Odisha coast and over North and West-central Bay of Bengal during the next 24 hours. Sea condition will be rough to very rough. Fishermen are advised against venturing into sea along and off Odisha coast, North and West Central Bay of Bengal during this period.
Also Read: Another Low Pressure Over Bay To Trigger More Rain In Odisha