FIH Hockey Pro League At Odisha's Kalinga Stadium From Oct 28; Check How & Where To Get Tickets
Bhubaneswar: Kalinga Hockey Stadium will open its doors to full capacity for the first time in two years with FIH Hockey Pro League 2022-2023 season beginning October 28. The ticket sale for the season opener where India will take on Spain and New Zealand in double-header matches has also begun.
The tickets for these matches are available at the Box Office located at Gate 9 of the Kalinga Stadium as well as several other prominent locations in Bhubaneswar between 12 pm to 8 pm:
Sports Emporium: Opp. Pal Heights, Jaydev Vihar, BDA Colony, Bhubaneswar- 751013
Sister Mobile: 699, BMC, Near PNB Bank, Bhawani Mall St. Saheed Nagar, Bhubaneswar – 751007
Sister Mobile: Plot No. 88/7, Bapuji Nagar, Bhubaneswar – 751009
SS Frozen World: Kanan Vihar, Chandrasekharpur, Bhubaneswar – 751017
B21: Janpath Road, Kharabela Nagar, Bhubaneswar – 751007
B21: Opposite BMC Bhawani Mall Exitgate, Saheed Nagar, Bhubaneswar – 751007
In & Out: Plot No. 305, Bharat Petroleum Petrol Pump, District Center, Bhubaneswar – 751016
C Décor's: Plot No. 88, Near Bharat Petrol Pump, District Center, Chandrasekharpur, Bhubaneswar – 751016
FH17 Saloon: 3rd Floor, BMC Bhawani Mall, Saheed Nagar, Bhubaneswar – 751007
Reliance Food Court: 2nd Floor, Reliance Mall, Master Canteen Area, Kharbela Nagar, Bhubaneswar – 751001
Tickets can also be booked online at www.ticketgenie.in official ticketing partner for the matches in India.
Team India along with Spain and New Zealand has already arrived in the city to participate in the tournament. India arrived in Bhubaneswar one day before Diwali and commenced their training at the Kalinga Stadium. Odisha's Amit Rohidas and Nilam Sanjeep Xess have been selected for the 22-member Indian squad.
India will begin its campaign on October 28 with their first match against New Zealand, followed by the second match on October 30 against Spain. New Zealand and Spain too will take on each other on October 29. In the following week, India will play their second tie against New Zealand on November 4 and play Spain on November 6. Spain and New Zealand will battle it out again on November 5. All matches will be held at 7 pm, Hockey India said on its official website.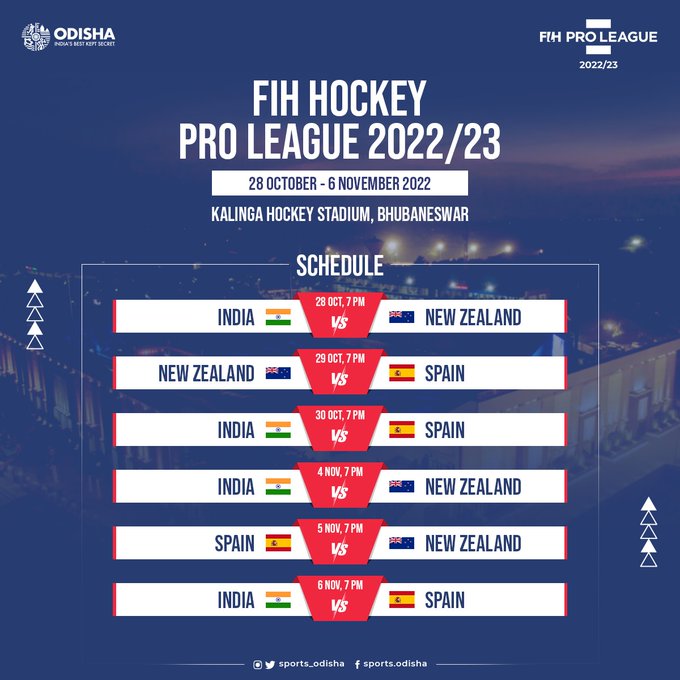 This edition of FIH Hockey Pro League is going to be a dry run for the upcoming World Cup in 2023, albeit at a smaller scale.