Bhubaneswar: Around 300 villagers spent 12 hours perched on three manchas (elevated wooden platforms) as heavy rain and strong wind lashed Odisha's Bhadrak district in 1971. It was a very severe cyclonic storm, which affected thousands of lives and left a trail of destruction in Kendrapada, Jagatsingpur and Bhadrak districts. Among the villagers was a 6-year-old boy and the incident left a lasting impression on his mind. The fear and devastation stayed with him for long. Long enough to motivate him to change the course of things in future.
Forty-two years hence, he was hailed for his timely and accurate prediction of Cyclone Phailin, which helped the local authorities contain the damage to definitive margins. The accuracy in subsequent predictions during Hudhud, Titli, Fani and Amphan earned him the 'Cyclone Man of India' sobriquet. The more recent very severe cyclonic storm, which made landfall around Balasore, was no different.
Mrutyunjay Mohapatra, Director General (DG) of India Meteorological Department (IMD), accurately predicted the landfall, wind speed and its possible impact from Paradip to Sagar Islands, besides giving heavy rain forecast.
Since what he calls 'scientific failure' during the 1999 Super Cyclone, which saw large-scale devastation in Jagatsinghpur with estimates putting the casualties at 10,000, the IMD has embarked on the right track with him heading three projects for improving the weather forecasting system in the last 10 years.
"On the afternoon of October 28, 1999, I had informed the media and government that cyclone would cross Odisha coast near Paradip the following morning. By evening, the Kolkata office said the cyclone had changed its track and instead of Paradip it will move towards Sagar Islands. But I stuck to my prediction as per my analysis. The forecast was again changed in the night and they agreed with me that it would hit Paradip," he said, pointing out the inconsistency in the forecast.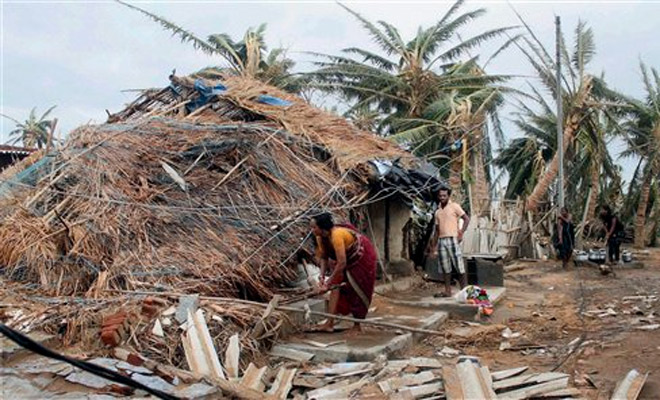 Mohapatra said they did not have the technology and modelling, and telegram and teleprinter were the only modes of communication then. "If we did an analysis at 12 pm and it would take almost 5 hours for a warning to reach Mayurbhanj from Bhubaneswar. By that time, the storm must have moved 90 km, and the impact would be different," he said.
Collecting information was also a time-consuming process. "It took almost 3 hours to collect observational data with a telex machine. In the absence of adequate number of computers, we had to do manual analysis. Timely, accurate and consistent forecast was not possible because of these constraints," he said.
The IMD was also unable to provide the wind speed and details about the impact of a cyclone.
In 2007, Mohapatra was shifted to Delhi and entrusted with the task of improving the cyclone warning system.
"I took National Hurricane Centre of US as a benchmark and compared our forecast accuracy with theirs. It gave an insight into our weaknesses and strengths," he said while elaborating on the roadmap, strategy document and the collaborations that gave an impetus to the mission.
He was then asked to prepare a vision document in which he wrote that the forecast accuracy would improve by 20 per cent by 2015 and 40 per cent by 2020. "We outdid the target with pin-pointed forecast on speed and landfall through proper use of the available observations and models," he said.
The IMD could send a warning about cyclone Phalin five days prior to its landfall on October 12, 2013. "We had said that it would cross Gopalpur coast at a wind speed of 210-220 km. International cyclone centres scoffed at our prediction and said we were underestimating it. They had predicted that it would be a super cyclone with a wind speed of 340 kmph," Mohapatra said.
Questions were again raised about the efficacy of IMD in predicting the track and wind speed of a cyclone.
"On the evening of October 11, the then vice-chairman of National Disaster Management Authority (NDMA) Marri Shashidhar Reddy asked me as to why I was so adamant that the cyclone will cross near Gopalpur coast and not exceed this wind speed. I gave him three reasons and he was convinced. We were giving forecast consistently and did not change it," he said.
At the last moment, American forecasters changed their forecast of the track and wind speed of Phailin. "I got a message from Reddy at 1 am and it said, you have proved India right, America wrong," he told Odisha Bytes with a sense of pride.
Phailin proved that India has the capability to provide accurate cyclone warning, he added.
The IMD repeated the feat in every cyclone that followed and added more alerts, allowing people and the administration to prepare for the fury better.
After almost 140,000 lakh people perished in extremely severe cyclonic storm Nargis in Myanmar in 2008, the IMD started predicting the height of the tidal surge.
The loss of around 200 fishermen during Cyclone Ockhi in December 2017 made Mohapatra look for ways to prevent a repeat of the same. "We had given the warning three days prior to the landfall. But by then the fishermen had ventured into the sea and we had no means to communicate with them in the deep sea. The cyclone whizzed past the Kerala coast and they were caught in the high tides," he said.
Following this, the IMD collaborated with ISRO for space-based communication. "On April 22, 2018, we started giving cyclone genesis forecast for five days with helped the fishermen know about a possible disturbance in the sea," he said.
The weatherman then started providing an extended genesis forecast for two weeks about brewing cyclone.
Rainfall warning was given after Mekunu hit Oman in 2018.
The following year, he was appointed as IMD DG.
"It was a learning process. Every cyclone with its unique characteristic posed a new challenge to us and helped us strengthen our weather forecasting system," he said.
At present, the IMD makes use of 30 Doppler radars, two satellites- Insat CD, Insta CDR and other international satellites for its prediction.
Two among them are in Odisha – Paradip and Gopalpur – and plans are afoot to install two more in Balasore and Sambalpur.