Bhubaneswar: US-based Kathak danseuse Anindita Neogy Anam received the National Nritya Shiromani Award at the inaugural day of 10th Cuttack Mahotsav, International Dance and Music Festival, being held at Cuttack on Wednesday. The award was given for her preservation and promotion of Kathak both in India and globally.
Receiving the honour she said, "The extensive use of technology has killed the attention span of today's generation. To draw more youngsters towards Indian classical dance we need to focus on their interest area and adapt new techniques without losing the essence of the classical form".
She is known to focus on the pure, technical form of Kathak with a touch of world music, which she thinks is important to entertain a global audience without compromising the authenticity of this rich classical style.
"While performing in the US, I realised that foreigners hardly understand our mythology and our dance style. To connect with the audience, I started doing choreography on instruments, which was a success," said the promising dancer who is keen on working such contemporary content.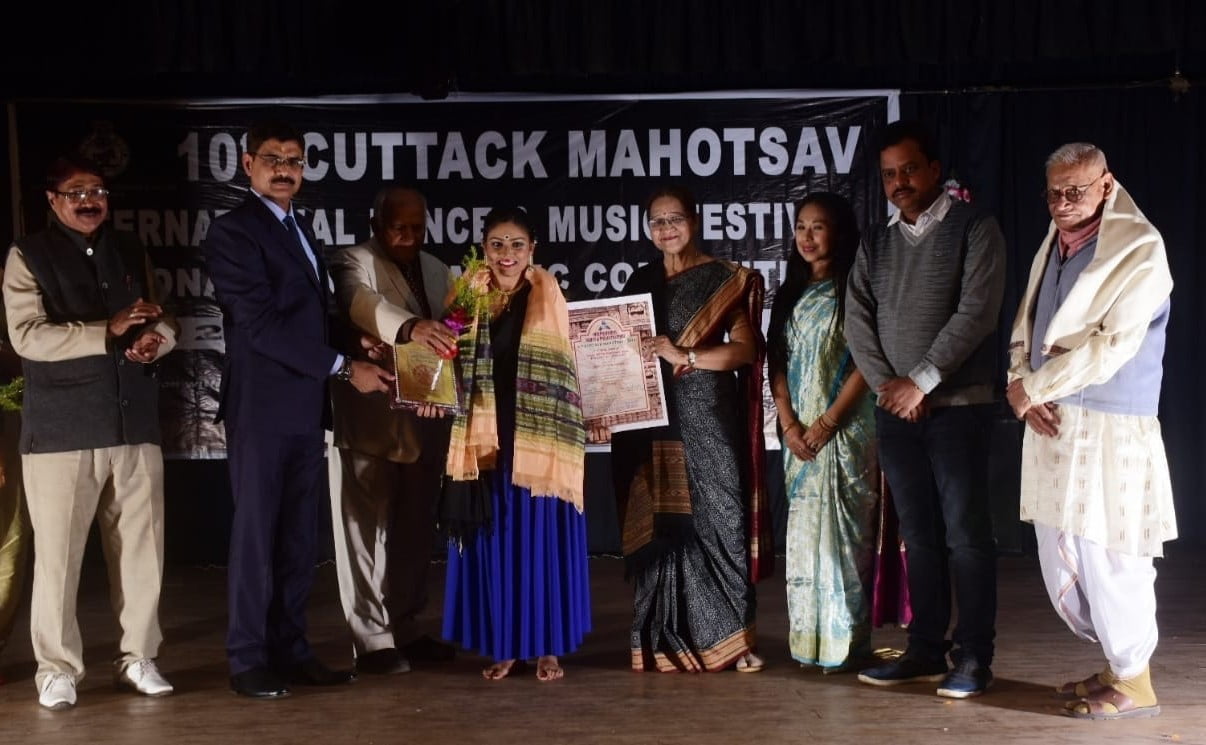 At the Cuttack Mahotsav, she started her recital on the famous Rajasthani Maand, "Padharo Maare Des". Her second presentation was a Kathak fusion on the famous composition 'Rhythm Scape' with tabla virtuoso Bickram Ghosh. The music, a confluence of east and west was very well received by the audience.
"I have experimented on diversified body gestures with hints of ballet and flamenco to give a new taste to the audience. I am happy that people are accepting the new compositions whole heartedly," said Anindita, recipient of prestigious national awards like Jayadev Rashtriya Puraskar and Bidagdha Nartaki Samman for her outstanding achievement to preserve and promote Indian art in India and USA.
Anindita has performed in leading festivals of India, Germany and USA including Delhi International Arts Festival, Logging and Heritage Festival, Nritya Samarpana Dance Festival, Rhythms of the World, BAGC Chicago sharing stage with Mohan Veena virtuoso and Grammy awardee Pt Vishwa Mohan Bhatt, Diversity Festival, Kultur Nacht, Devdasi International Dance Festival, Jayadev Samaroh, Cuttack Mahotsav, Hindi Bhawan Samiti Theater Fest to name a few.
She is also the Secretary of Wisconsin Dance Council board of Directors and the first Indian Kathak dancer chosen to serve on the board.
A disciple of Pt Jai Kishan Maharaj (eldest son of Pt Birju Maharaj) and Pt Rajendra Gangani, she has performed Kathak in the fusion pieces Lasya, Indian Summers played by Grammy nominee Anoushka Shankar, Norah Jones, Armik, Lindsay Stirling, Niraj Chag, Nitin Swahney to name a few.
She is North American Indian Raga Fellow for Kathak and led the Indian Raga choreographies based on contemporary issues, where she used the Fur Elise of Beethoven in a fusion to showcase the complexities and challenges of virtual vs. real life and how they are sometimes opposite to each other.