Land For Paika Rebellion Memorial: Dharmendra Tweets 'Thank You' Note For Odisha CM
Bhubaneswar: Union Minister Dharmendra Pradhan thanked Chief Minister Naveen Patnaik after the Odisha cabinet on Tuesday decided to provide 9.685 acres of land to the Ministry of Culture for the construction of Paika Rebellion Memorial free of premium.
Check his tweets: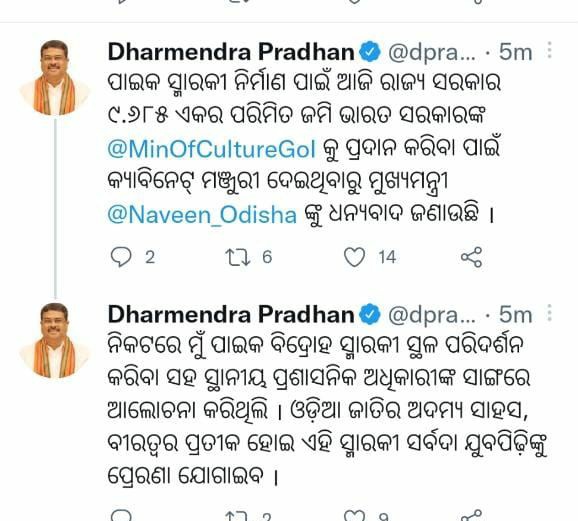 "The memorial will be seen as an epitome of Odisha's valour and serve as a source of inspiration for future generations," the Union Minister said, adding that he had recently visited the proposed site and held discussion with officials concerned.
Dharmendra has long been making efforts to provide due recognition to 1817 Paika Rebellion of Odisha in the pages of history as the first freedom struggle of the country. In 2017, he requested the Culture Ministry to identify a suitable place at Barunei, the seat of power of the king of Khurda and the epicentre of Paika rebellion, for the proposed memorial.
A year later, he requested the CM to expedite the process of allotting 50 acres of land in the foothills of Barunei for the memorial. A museum and audio-visual system depicting the life and times of Buxi Jagabandhu and Paika Rebellion were proposed to be the main attraction of the memorial.
Earlier in March 2018, the then Union Minister of State for Culture Mahesh Sharma had also written to Naveen to identify 50 acre of land either at Khurda or in the foothills of Barunei hill for the proposed memorial.
On December 8, 2019, President Ram Nath Kovind laid the foundation stone of the memorial at Brunei foothills to commemorate 200 years of Paika rebellion against British rule.
The Odisha government has also been demanding for declaration of 'Paika Bidroha' of 1817 as the first war of Independence against the British Empire as it occurred much before the Sepoy Mutiny of 1857.