BJD to hold 4-hour hartal in 4 districts over Mahanadi water dispute
Bhubaneswar: To protest against the unilateral construction of barrages and reservoirs in Mahanadi upstream by the Chhattisgarh government, the ruling Biju Janata Dal (BJD) has called for a four-hour hartal on Saturday in four western districts of the state.
"The hartal will be observed for four hours from 6 am till 10 am tomorrow morning in the districts of Sambalpur, Bargarh, Jharsuguda and Sonepur. The party members will hold rallies, dharnas and demonstrations to garner public support on the dispute. Essential services will be exempted from the strike," BJD's vice-president Prasanna Acharya told the media on Friday.
Describing Mahanadi as the lifeline of Odisha, he said, "The attitude of the neighbouring state towards Odisha on the issue has created discontentment among the people of the state. We strongly condemn the conspiracy hatched by the Chhattisgarh government to dry up the river by closing the gates of Kalma barrage."
BJD's another vice-president and former minister Debi Prasad Mishra accused the NDA government at the Centre of supporting the BJP government in Chhattisgarh. "How come the central government under federal system support a state which caused problem for the people of another state?" Mishra questioned.
On June 3, chief minister Naveen Patnaik had requested his Chhattisgarh counterpart to instruct the officials of Chhattisgarh Water Resources Department to immediately open the gates of Kalma barrage and ensure free flow of water in Mahanadi River. However, the Chhattisgarh government did not respond. Kalma barrage is one of the six barrages "unilaterally" built by the Chhattisgarh government across the river without any reference or regard to the downstream interests of Odisha and its inhabitants, Naveen had written in the letter.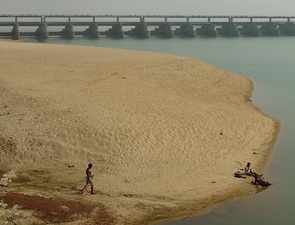 "Since the Chhattisgarh government closed the gates of Kalma barrage, people of Sambalpur, Jharsuguda, Bargarh, Sonepur and many other districts have been facing acute drinking water shortage," the former minister alleged.