Mellifluous voice, deft footwork leave audience spellbound
Bhubaneswar: The fourth day of OMC Guru Kelucharan Mohapatra Award Festival organized by Srjan at Rabindra Mandap here on Friday saw a beautiful blend of elegance, purity, precision and aesthetics of Kathak and Carnatic vocal.
The first programme of the evening was Kathak by renowned dancer Sanjukta Sinha, who started with an invocatory piece in Tin Taal followed by Thaat brilliantly executed with lightning footwork and layakari. She concluded her mesmerizing performance with an abhinaya, Aaj Jane Ki Zid Na Karo.
She was accompanied by Mohit Gangani on tabla, Ashish Gangani on pakhawaj , Samiullah Khan on vocal and Kamal Khan on sarangi.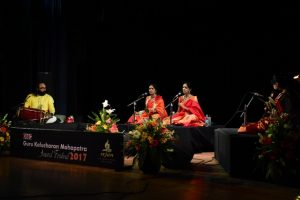 The second presentation of the evening was Carnatic vocal by eminent Ranjani Balasubramanian and Gyatri Balasubramanian, who continue to innovate within the traditional ambit.
Among others, Agriculture Minister Damodar Rout, former chief secretary Subas Pani, Commissioner-cum-Secretary, Culture Department, Manoranjan Panigrahy and Srjan director Guru Ratikanta Mohapatra graced the occasion.