Odisha: Meet Padmini Who Works As Mason To Meet Family Needs
Nuapada: Challenging gender stereotypes and proving wrong that women are weak, Nuapada district's Padmini Rana has become the talk of town after being a mason.
The 18-year-old hailing from Nuagaan under Komna block of Nuapada district is the third child of Ghanashyam Rana and Kousalya. Padmini lost her father before 18 years.
Her mother, however, was taking care of the family. Her two sisters have got married.
Padmini and her mother were depending on her mother's widow pension and 10 kg rice per month, given by government. It was not adequate to meet their family needs.
As her mother has become old, she cannot work or raise resources for the family. They do not have any male members in their house, for which, Padmini has been working as a mason for the last four years. She has been working in the daytime and takes care of her studies at night. She hopes to pursue higher studies, provided the government extends some financial support to her family.
She is now pursuing Plus-II in Budhhikomana College.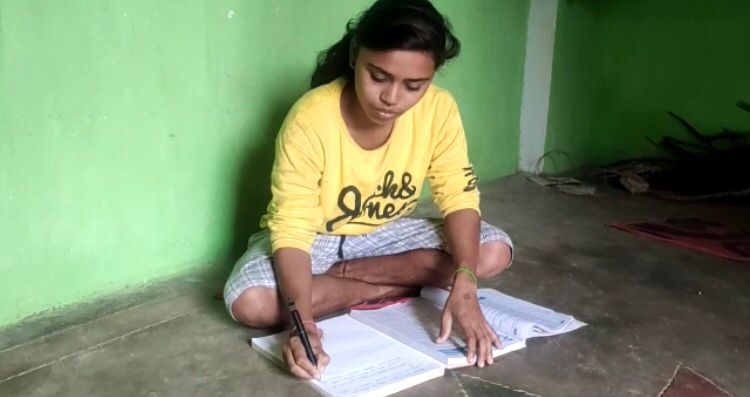 "I am doing masonry work to support my family and raise finances for my studies. I get time for my studies in the evening. As a daily wager, I have to work very hard. However, I want to pursue higher studies. I urge the government to help me," said Padmini Rana.
People from nearby villages used to take her along to join the masonry work.
The locals also urged the state government to extend financial help for Padmini's studies.
"Padmini has been working from a very tender age. She has acquired skills like a professional construction worker. The state government should extend help for her studies and family needs," said Kunu Rana, a local.
When Nuapada Sub-Collector was contacted about the matter, he promised to help Padmini for her higher studies.
"We have noticed her. We will contact with her college authorities to waive off her college fee. Books will be provided to her from library," said Nuapada Sub-Collector Tarani Sen Nayak.