Bhubaneswar: Biopic trend is not new in Bollywood. Biopic on master blaster Sachin Tendulkar, unstoppable Runner Of India Milkha Singh and many other eminent personalities have already been made.
Now the movie lovers will get a chance to watch the inspiring story of Mohan Mahapatra, a  21-year-old 'Clean India' activist from Odisha.
A poster of the movie 'Silver Gandhi' was released by MP Manoj Tiwari in New Delhi recently.
Mohan, also known as Sai Ram Gandhi, had travelled seven states on foot spreading the message of Swachh Bharat Abhiyan. A student of theatre in Odisha, he set out on a padayatra from Jagannath Temple in Puri on June 26, 2016, and reached Delhi in October 2018.
With silver paint on his face and in Gandhi attire, Mohan walked 2000 km in the those two years.
In 2018, he met Manoj Tiwari, who helped him get an audience with President Ram Nath Kovind in New Delhi.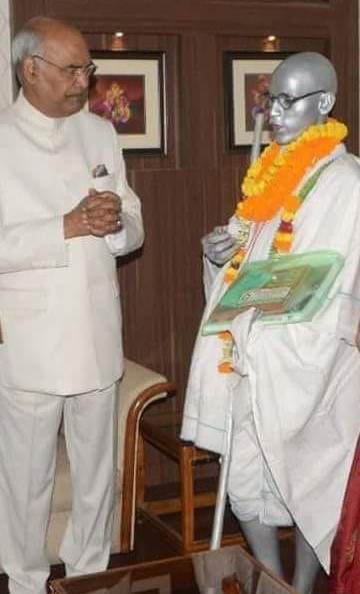 He holds the world record for 'Longest Journey by Road on Foot' and was felicitated by the then Union Minister Rajyavardhan Singh Rathore in Jaipur, Rajasthan. Odisha Governor, Chief Minister, and the Prime Minister had also praised him for this noble work.
The movie will be directed by Avinash Nanda, also an Odia. The shooting will be start in October.
The movie will be dubbed in six languages.