Bhubaneswar: After the internationally appreciated Sala Budha and Aadim Vichar, filmmaker Sabyasachi Mohapatra is ready with the third film in the Sala Budha trilogy. Sala Budha Ra Badla (Revenge of Sala Budha) will be released after a month. Final mixing work on the movie is underway in Mumbai, Mohapatra said.
Like Sala Budha and Aadim Vichar, Sala Budha Ra Badla, too, is an adaptation of a story by the filmmaker's father, Kapileswar Prasad Mohapatra.
"My audience knows the story of Sala Budha. He was a simple and kind-hearted person who believed in God and was optimistic. He always said positive things, even in difficult situations," Mohapatra said. "In Sala Budha and Aadim Vichar, his character was very simple. But in my upcoming film, he will be seen in a different mood. The audience will see a different Sala Budha in this film."
He further said: "This is the first time I have included an innocent love story in a film. There is a dispute regarding over the marriage of an innocent couple and a fight between two villages. In the movie, the viewers will see the revenge of Sala Budha and how revenge can be heart-breaking."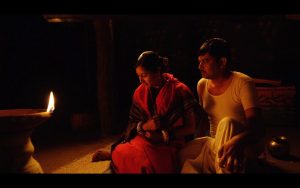 "I leave it to audiences to find out more about the story when the movie releases," he said.
Atal Bihari Panda, who plays Sala Budha, is now 89 years old. "He was very active at the time of shooting," Mohapatra said. "I have introduced a new actor and actress in the movie. In this movie, too, I have given priority to songs. Moreover, this movie is a musical," he said. Music has been composed by music director Pankaj Jal.
"This is the first time we are making a movie trilogy in Odisha. Of course, Pahada Ra Luha, which is not part of the series, was released in between. We have given priority to technology in this movie. The movie was shot mostly in parts of Sonepur district. We have shot mainly in natural locations," Mohapatra said.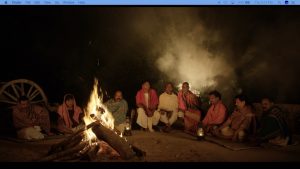 "The co-producer, editor and co-director of the movie is my son Kumar C Dev. He is also the director of photography of the movie."
The movie's production house is Next Generation.
Sharing his experience about shooting of the movie, Mohapatra said, "In the month of October, there was continuous heavy rain for three days. We had to stop shooting. My teammates were tense, but I told them we don't have control over natural disasters. So relax and enjoy. But when the rain stopped and we went for shooting on the Mahanadi's river banks, we had to face many difficulties. There was mud and water everywhere and no proper road. We had to go with an elderly man and equipment. That difficult journey was quite interesting and daring for us. We had to change costumes for that journey," he said.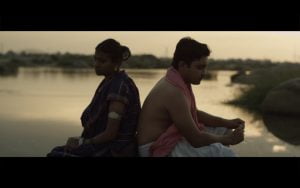 An interesting trivia about the movie is that two characters, who have a rivalry in real life as they play Kansa in their village during Dhanu Yatra, have to fight each other in the movie.
Co-producers of the movie include Madhubala Mohapatra, Rajashri Mohapatra and Sushanta Mohapatra.
Besides, Atal Bihari Panda, Jagadananda Chhuria, Pradyumna, Purushottam, Gadadhar, Mantu and Bijay will be seen in different characters in the movie.