Travel Love Story 'Daalcheeni' Bags Best Feature Film Award At 7th IFFS; Director & Actor Speak About The Journey
Bhubaneswar: Odia movie 'Daalcheeni' bagged best feature film award in national category at seventh International Film Festival of Shimla on Sunday.
The film was screened at Shimla International Film Festival on Saturday.
"I am thrilled. The award came as a surprise. After the screening, everyone present appreciated the work," said Sisir Kumar Sahu, who co-directed the movie with his wife, Peenakee Singh.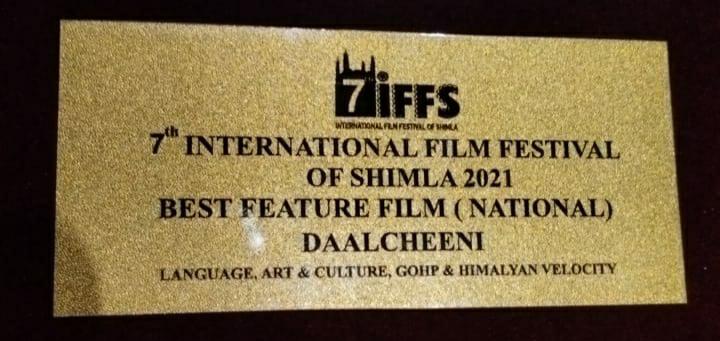 "We had started shooting for the film in December 2020 and winded it up in about a month's time," he said.
The film is a travel love story. "The audience will enjoy the 48-hour journey of the protagonists and how love develops between them during this period. We have explored some tourist places of Bhubaneswar and Puri, including Marine Drive, Konark and Dhauli, in the movie," said Sahu.
Partha Sarathi Ray and Suryamayee Mohapatra play lead roles in 'Daalcheeni'.
"After the screening, I got a call from Films Division India head Amrit Pal Singh. He praised my work in the movie. The story and songs are also very good," said Partha.
Also Read: Odia Actor Partha Sarathi's Experiments In Reel Has A New Charitra
Popular music composer Jerry Silvester Vincent has composed the music. The movie has three songs, sung by Labita Lobo, Aishwarya Kumar, Gaurav Anand and Kuldeep Pattanaik.
"We are planning to release the movie in December or January-end in Odisha," said Sahu.
'Daalcheeni' is the couple's second movie after 'Charitra', which had also won rave reviews.
Also Read: Beautiful Koraput In Odia Crime Thriller 'Charitra'; Director Couple Speak About The Movie & More
"This award will encourage us to do more good work. We will start shooting for our next project 'Misiri', from December first week. The audience will enjoy love, drama and crime in the movie," he added.