12% Jump In Indians Studying In USA
New Delhi: The number of international students in the United States increased by three per cent over the previous year, and the number of American students studying abroad jumped by four per cent from the prior year, according to the 2017 Open Doors Report on International Educational Exchange data released on Monday by IIE and the US  Department of State Bureau of Educational and Cultural Affairs.
In 2016-17, for the second consecutive year, US colleges and universities hosted more than one million international students, reaching a record high of 1.08 million. This also marks the eleventh consecutive year of continued expansion of the total number of international students in U.S. higher education, said a press release.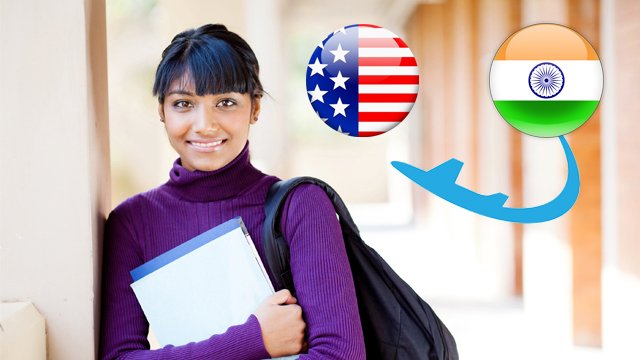 The report says the number of Indian students in the United States has risen to a record level, to over 186,000 – the fourth year in a row to see double-digit growth.  This is an increase of 21,000 over last year and a growth of 12%, one of the highest rates of growth in the world. Further, the number of Indian students in the USA has doubled over the last 10 years and India is the second leading place of origin for students coming to America, comprising 17.3% of all international students. The majority of Indian students (56%) in the USA are studying at the graduate level.
On the release of the report, Deputy Cultural Affairs Officer at the U.S. Embassy Karl M Adam said, "American universities provide unparalleled access to instructors, and provide a wide variety of internship and research opportunities.  The American higher education system introduces international students to networks and contacts that provide benefits and advantages over a lifetime. We are always excited to see our two countries coming closer together in the best way possible.  We strongly support educational exchanges because of the shared benefits, not just in economic terms, but in our mutual understanding of each other".
Top Places of Origin and Host States for International Students in the USA
The top places of origin for international students studying in the United States were China, India, South Korea, Saudi Arabia, Canada, Vietnam, Taiwan, Japan, Mexico, and Brazil. The top host states were California, New York, Texas, Massachusetts, Illinois, Pennsylvania, Florida, Ohio, Michigan, and Indiana. Each of these states saw increases in international students in 2016-17.