Adwaita Gadanayak, Who Will Carve Netaji Statue, Calls For A Renaissance To Save India's Art Forms
Bhubaneswar: It was a Kumbh Mela of artists taking a dip in the colours of eternity, merging and meandering through, creating positive vibrations, before emerging with splashes of patriotism in two gigantic scroll paintings, each about one-kilometre long, on unsung heroes of India.
And these will be on display in the open gallery created along Rajpath in New Delhi on January 26. Baji Rout, the 12-year-old youngest martyr from Odisha, glimpses of the 1917 Paika Bidroha and the story of Veer Surendra Sai find a place on the scroll presented in a realistic art form in Pattachitra, Saura and Ganjapa style of paintings.
"It is a historic moment since for the first time ever, fine art will be part of Republic Day celebrations," said National Gallery of Modern Art (NGMA) Director General Adwaita Gadanayak, who has also been assigned the task to carve the 28-feet-high statue of Netaji Subhash Chandra Bose in jet black granite to be installed at India Gate.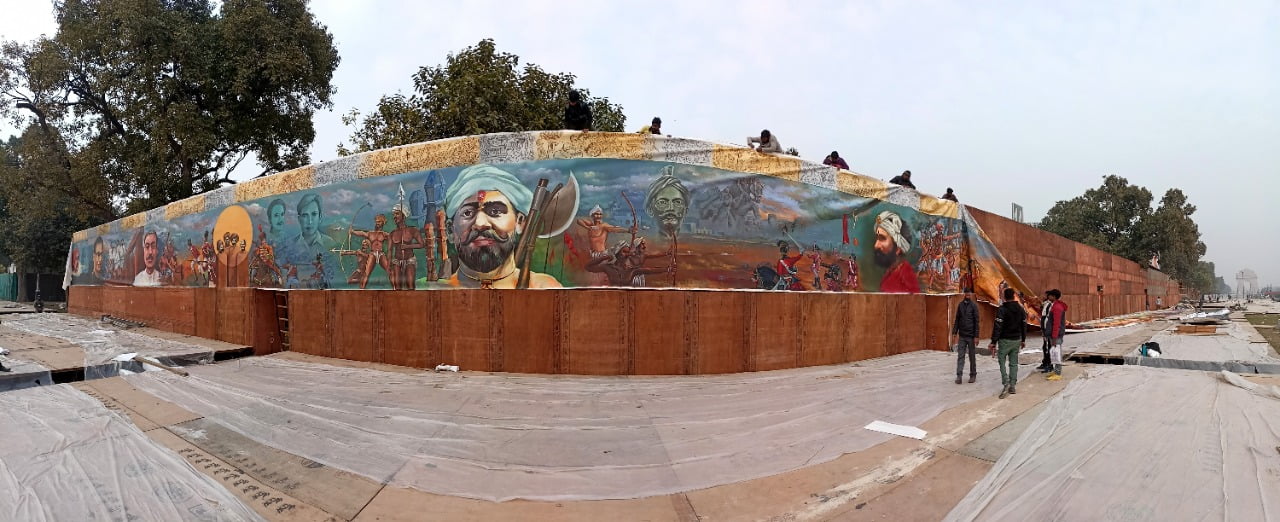 Speaking to Odisha Bytes, Gadanayak said that he had hit upon the idea of 'Kala Kumbh' about a year back. "We began on an experimental basis in Kolkata and Jabalpur before stating 'Kala Kumbhs' in Bhubaneswar and Chandigarh. The objective was to bring traditional, indigenous and contemporary artists under one roof for exchange and amalgamation of ideas for creating something monumental that can send a positive message to the society," he said.
The artists from Odisha, Bihar, Jharkhand, Chhattisgarh, Bengal, Andhra Pradesh and even Northeast India have weaved tales of heroism in Pattachitra, Talapatra Chitra, Manjusa, Madhubani and Jadu Patua while the valour of unsung heroes has been depicted in Phad, Pichwai, Miniature, Kalamkari, Mandana, Thangka and Warli forms of paintings by those from Ladakh, Jammu & Kashmir, Uttar Pradesh, Delhi, Haryana, Punjab, Himachal Pradesh and Rajasthan, celebrating unity in diversity.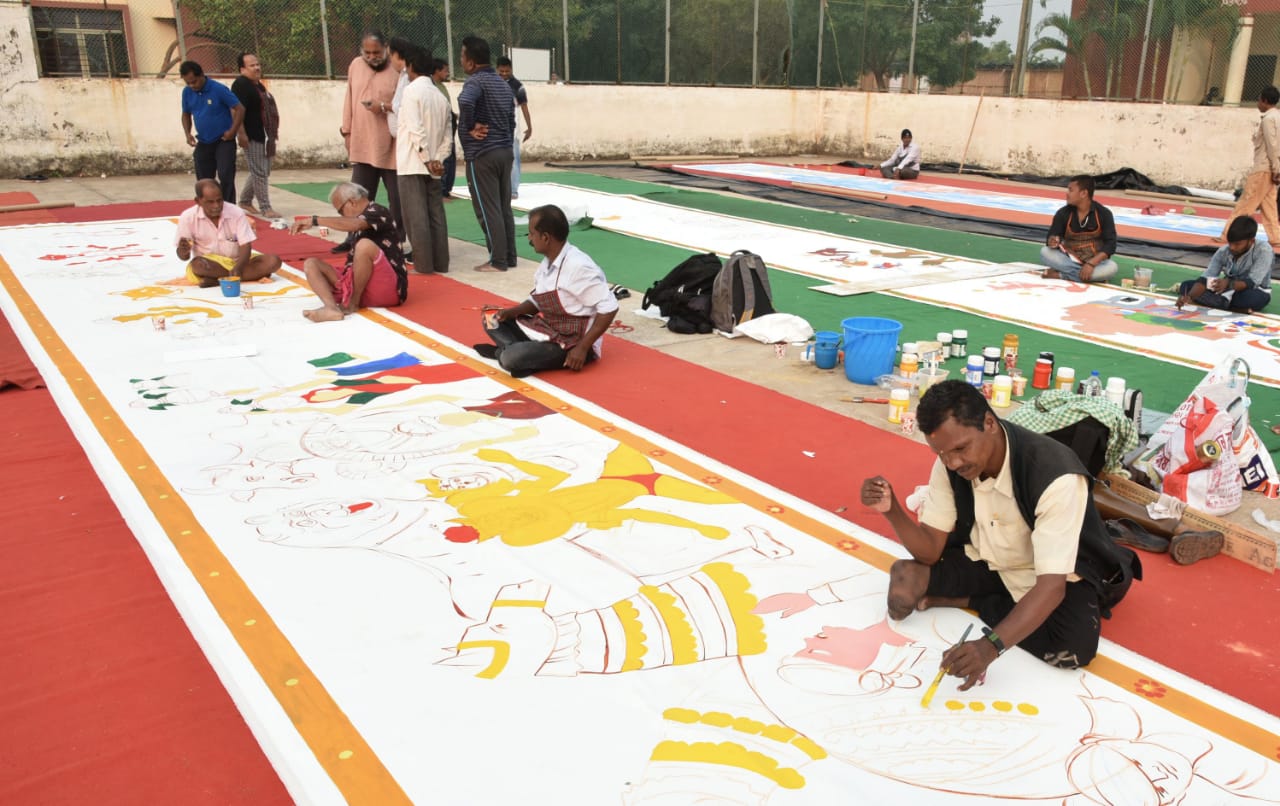 The scroll is a month-long effort by these artists, who laboured day and night with love, to bring back patriotism into paintings, and spread positivity in the society.
An alumnus of B K College of Arts and Crafts, Bhubaneswar, Gadanayak said these camps were also an effort to bring down the barriers dividing the artists' community. "What was our tradition and indigenous to our country is being called craft while contemporary art borrowed from the West and driven by market has taken the centrestage. They need to co-exist and evolve with time and these camps were an effort in that direction," he said.
"We need to learn the use-value of art from the traditional artists," he added.
Referring to the Konark Sun Temple, Gadanayak said that 12,000 artisans were engaged to build the structure, which in its entirety was one. "We need to get over the individualistic approach towards art to be able to create something significant and unique. Traces of science, literature and philosophy can be found in the Sun Temple. We need to get into the renaissance mode to save our traditional art form from becoming extinct by involving all communities," he said.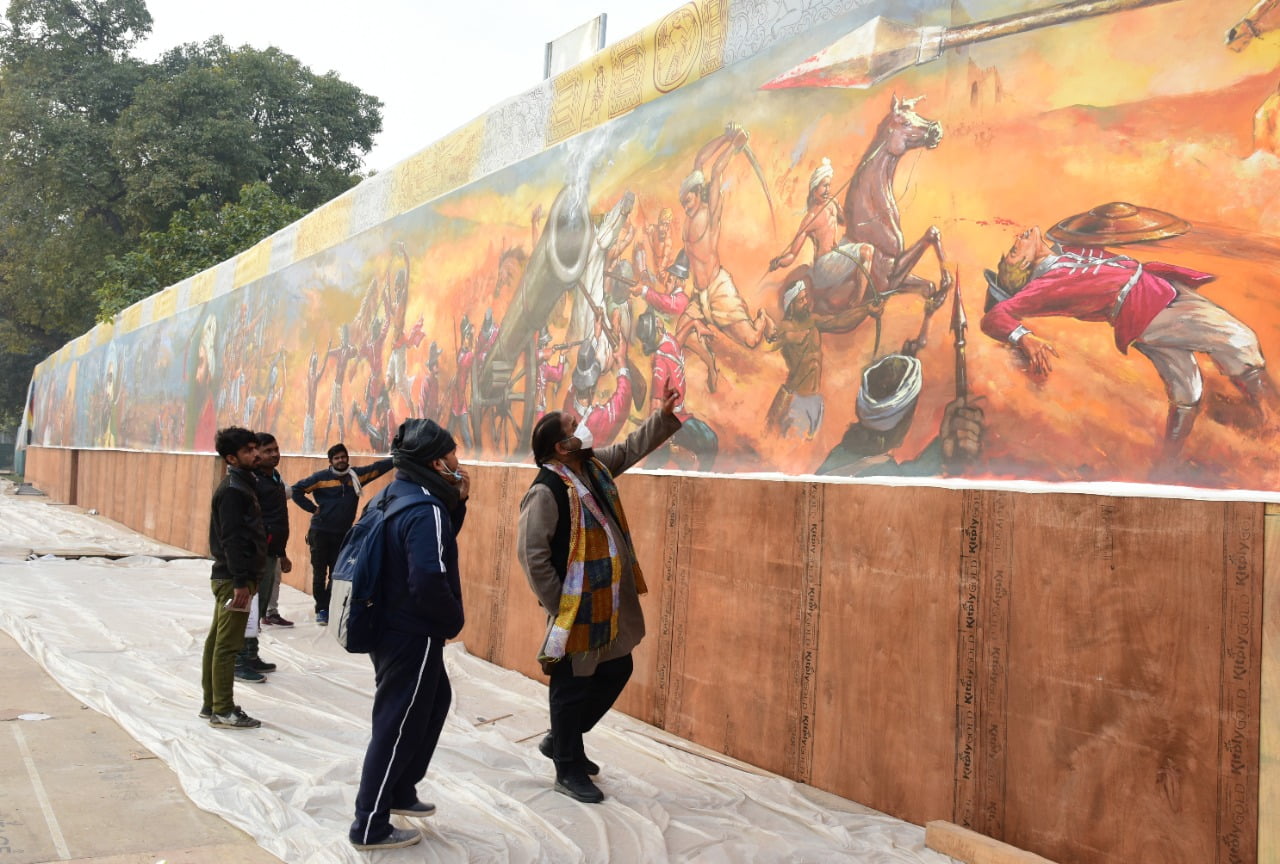 The native of Dhenkanal stressed the need to go to the artist, as his or her art is influenced by the environment, the hills, rivers and the air s/he breathes. "We had done an experiment with Dhokra art in 2004-2005, with an aim to bring the artists to the mainstream. A studio was built for them here and they were provided with free materials. Within two months, they started returning to the villages. I visited some households in Koraput and realised the need for working with the surrounding that created the artist in them," he said.
Gadanayak would soon embark on an all-India tour under Azadi Ka Amrit Mahotsav, which celebrates 75 years of India, taking the scroll to every state and inviting artists to become a collective force of this renaissance, which he feels will put Indian art forms on the world map. "We are often mocked by the West because we mimick them and lag behind in technology. Our beauty is in our tradition and we need to show the world what stuff we are made of," he concluded.