Amitabh & Jaya, A Journey Of Two Legends
Dadasaheb Phalke Award has come as a pre-birthday gift for megastar Amitabh Bachchan whose birthday is on October 11.
Amitabh and his wife, superstar Jaya Bachchan have completed 46 years of marriage. Let us go on a trivia journey of their movies together with special focus on the amazing songs in these movies.
The first movie of the hit pair was Bansi Birju, followed by Ek Nazar, which had a terrific Kishore solo "Pyar ko chahiye kya ek nazar ek nazar" and one of the best ever Rafi-Lata duets "Patta patta, boota boota". These two songs are hummed even today.
However, the movie which set them up as a superstar pair was Abhimaan. This iconic movie won the best actress award for Jaya and had amazing songs such as "Ab to hai tumse har khushi apni" and "Piya bina piya bina", (solos by Lata Mangeshkar), Meet na mila re mann ka" (solo by Kishore Kumar), Loote koi mann ka nagar" (duet by Manhar Udhas and Lata Mangeshkar), Tere mere milan ki yeh raina" (duet by Lata Mangeshkar and Kishore Kumar) and "Teri bindiya re" (duet by Mohammad Rafi and Lata Mangeshkar). SD Burman also won the best music director award. Interestingly, Mukesh was supposed to sing "Loote koi man ka nagar" and Manhar Udhas had done the demo version but as he had done it well, the greatness of Mukesh surfaced and he asked the demo version to be used in the movie as well.
Abhimaan was originally called Raag Raagini. It was the first film of the pair after marriage. The movie is about a successful singer and how he becomes jealous when his wife becomes more famous than him. It is a must-see movie for all working couples and is a masterpiece of direction by Hrishikesh Mukerjee.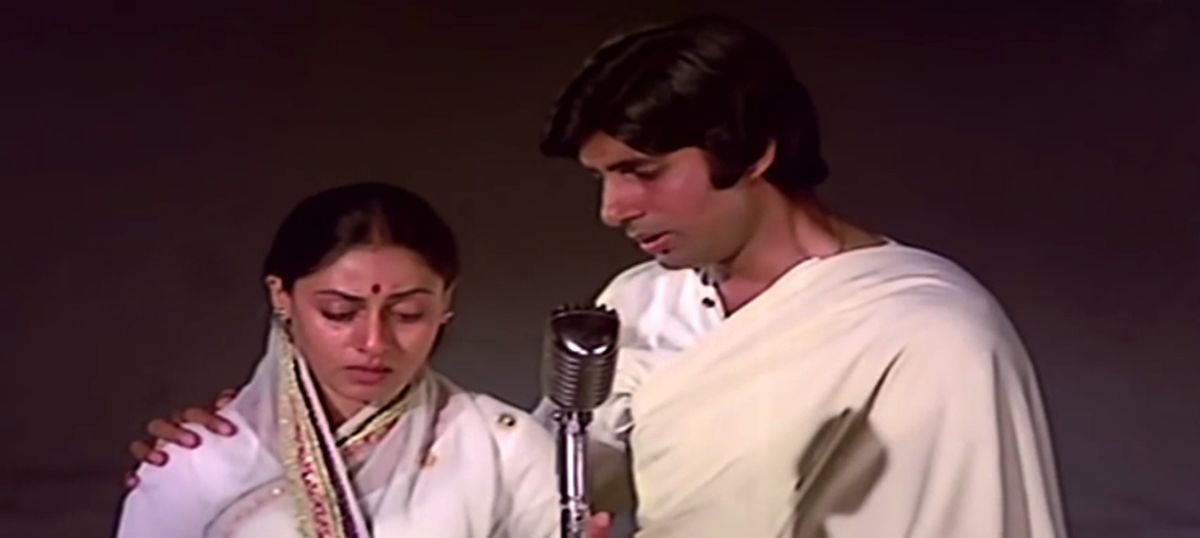 Zanjeer was the next Amitabh-Jaya movie and it established Amitabh as the new superstar, replacing romance with the angry young man as the darling of the public. Dharmendra, Dev Anand and Raaj Kumar were originally supposed to play the role, which Amitabh did but they did not do so for different reasons.
Salim-Javed had seen a fight sequence in Bombay to Goa in which Amitabh was chewing gum and that convinced them that he was the person who would do justice to the role. Jaya played the role of Mala and Pran had a memorable role as Sher Khan. Zanjeer is supposed to have inspired superstar Rajnikanth as well. Forty years later, it had a Hindi remake with the roles of Amitabh, Jaya and Pran played by Ram Charan Teja, Priyanka Chopra and Sanjay Dutt. However, it did not do well and possibly it was because the audience could not imagine Zanjeer without Amitabh.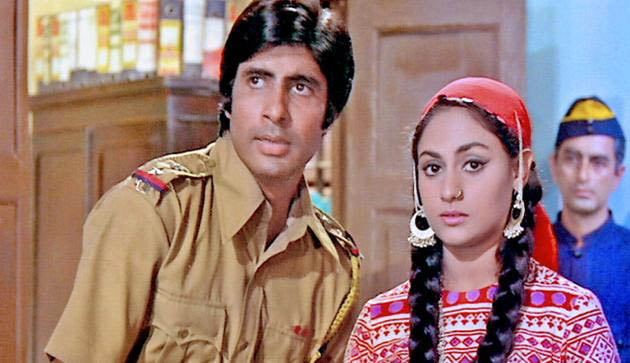 Chupke Chupke had Dharmendra and Sharmila Tagore in the more important roles. Reportedly, director Hrishikesh Mukherjee wanted newcomers for the roles to be played by Amitabh and Jaya as the movie was going beyond budget but their love and respect for him was so much that they not only insisted on acting but did so without taking any remuneration. This movie gave us the hit Dharam-Amit pair as well. The two had sung the terrific Rafi-Kishore duet Sa-re-ga-ma which is one of their best songs and showcases the terrific chemistry of Amitabh-Dharmendra, which was also seen in Sholay and Ram-Balram.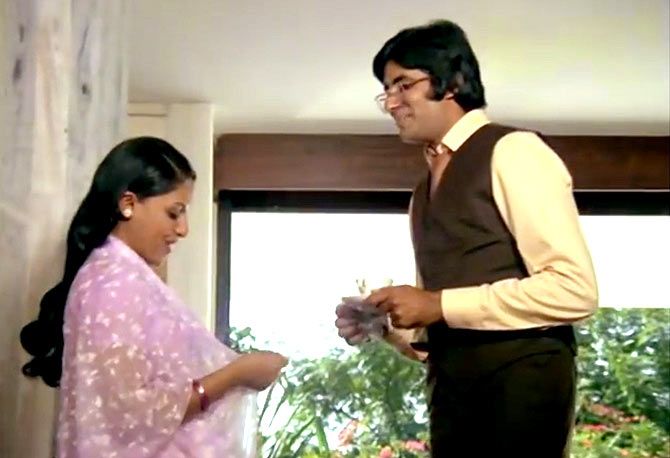 "Chupke Chupke Chal Re Purvaiya" is one of the best solo songs of Lata Mangeshkar.
Mili, another Hrishikesh Mukerjee masterpiece had Amitabh in the role of an alcoholic who falls in love with Mili, a young cheerful girl, who is suffering from a fatal disease. The terrific songs "Badi sooni sooni hai", "Maine kaha phoolon se" and "Aaye tum yaad mujhe" are amongst the best Kishore da – Lata ji songs. This was SD Burman's last movie as a composer and RD Burman worked as the assistant music director. It is believed that Badi sooni sooni hai was started by SD and ended by RD.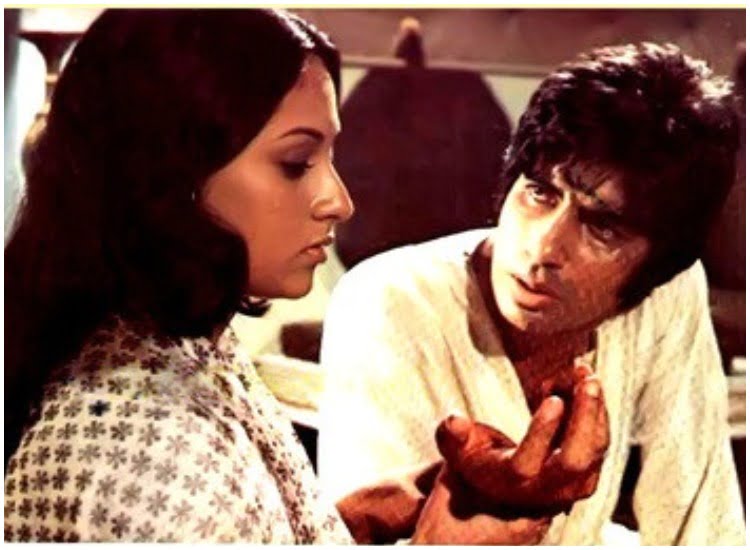 Mili showed us the soft and sensitive side of the angry young man. Both Jaya and Amitabh are outstanding in this movie.
Sholay the best ever movie for millions saw Jaya play the role of Radha, Thakur's (Sanjeev Kumar) daughter-in-law for whom Jai (Amitabh develops a soft corner). The classic scene where Jaya extinguishes the lamp at sunset and Amitabh is sitting playing his mouth organ is one of the most loved scenes ever of Hindi cinema.
Amitabh said that the perfectionist in Ramesh Sippy made him wait three years as he wanted a particular kind of lighting for the sunset scene, which he got for shooting after as long as three years. "Ye dosti" and "Holi ke din" are one of the best friendship and Holi festival songs ever while other songs such as "Mehbooba, mehbooba", "Jab tak hai jaan" and "Koi haseena" are super popular even today.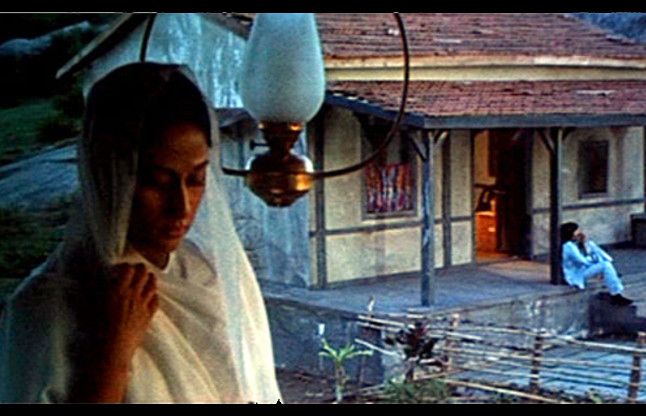 During the time of Sholay's shooting, their daughter Shweta was born.
Silsila saw the perfect ensemble casting with Amitabh, Jaya, Rekha, Shashi Kapoor and Sanjeev Kumar. Yash Chopra, in a conversation with Shahrukh Khan said that originally he had Smita Patil and Parveen Babi in mind and informed Amitabh about it. When Amitabh said if Yash ji was happy with the casting, he replied that he would prefer Jaya and Rekha. Amitabh said that he was fine with it but Yash ji would have to convince them. He did, and the rest is history. Smita and Parveen were replaced with Jaya and Rekha. Yash ji also said that Parveen Babi was fine with being replaced but Smita Patil was hurt as the news was passed on to her through Shashi Kapoor.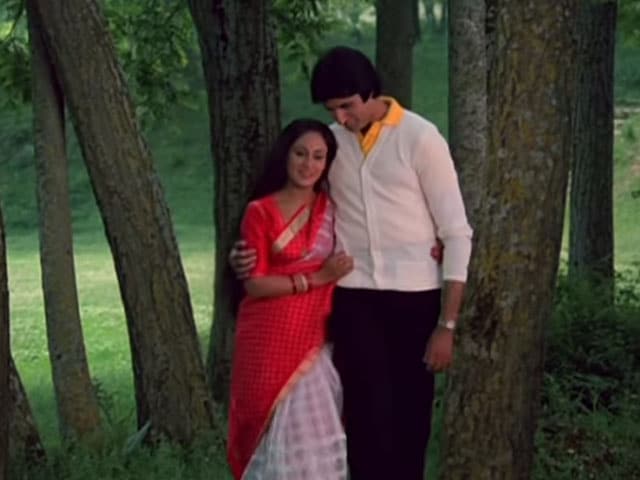 Silsila's music by Shiv-Hari is an all-time classic and so are lyrics by Javed Akhtar. "Rang barse" is a song without which no Holi celebration is complete. Dekha ek khwaab is one of the best Kishore-Lata duets and other songs Neela aasmaan, Sar se sar ke and Ladki hai ya shola are all all-time favourite hits.
Kabhi Khushi Kabhi Gham was also a movie with unreal casting. Amitabh, Jaya, Shahrukh Khan, Kajol, Hrithik Roshan, Kareena Kapoor and Rani Mukerjee were brought together by Karan Johar. This is one of the most loved family movies in Hindi film history. Karan Johar dedicated this movie to his parents and said that Amitabh's character Yashwardhan Raichand was inspired by his father Yash Johar.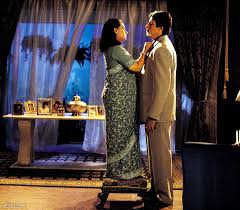 Kabhi Khushi Kabhie Gham, Suraj hua madhyam, Bole chudiyan, You are my Soniya, Say shave shava" are memorable songs in this movie.
These then are the Amitabh-Jaya movies together. Apart from these Amitabh had a cameo in Guddi and Piya ka Ghar. Shahenshah, which was the comeback movie of Amitabh after his brief journey in politics had its story written by Jaya Bachchan. The two superstars together had a guest appearance in Ki and Ka where they played themselves.
Amitabh and Jaya have just four years to go before their 50th wedding anniversary.
(The writer is based in Mumbai and the views are personal)