Are Postpaid Mobile Connections Worth It?
Ever since Jio upturned the telecom market two years back, unlimited calls and 1-2 GB data per day has become the norm.
But what about postpaid schemes? While traditionally postpaid plans used to be cost-effective than prepaid, things have become different. One reason being market disrupter Jio recently entered the postpaid segment, with only one plan.
However, postpaid plans are still the money makers for telecom players with Vodafone and Airtel reportedly earning around 25 per cent of their revenues from them, even though postpaid plans account for less than 5 per cent of their total subscriber base. According to Business Today, postpaid subscribers declined by over 2 million within months of Jio entering the market.
Here's a comparison of the popular prepaid and postpaid plans of major telecom services in India: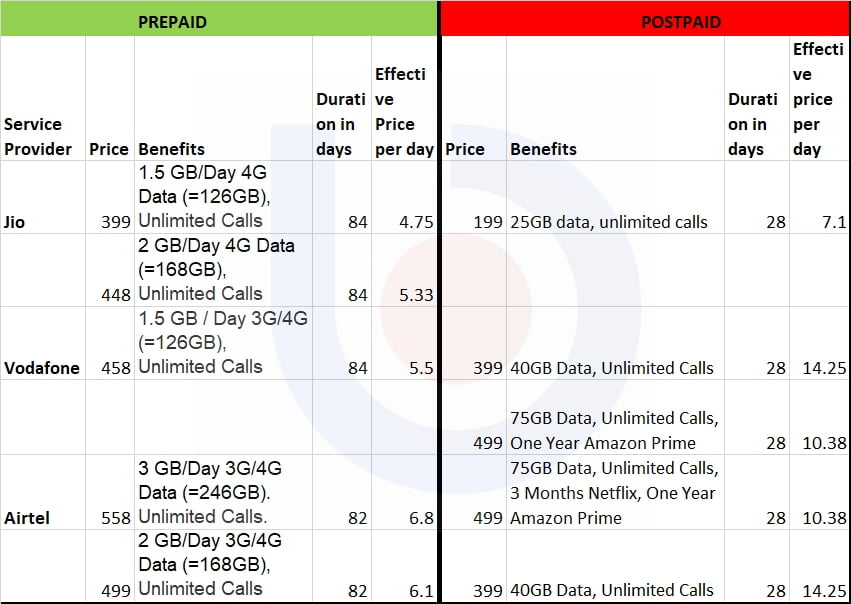 The effective prices have been calculated by taking the values of the free OTT services as well. For example, Airtel's 499 plan includes Netflix subscription worth Rs 1,500 and Amazon Prime worth Rs 999. Airtel users also get a free Wynk subscription. Vodafone gives access to Zee5 and has mobile protection plans as well. For the sake of comparison, we have considered the values of the major OTT players Amazon and Netflix.
Postpaid Pros:
No per day data limit. This lets you binge-watch your favourite Netflix series in a day.
Data carry forward option.
OTT services (Netflix, Prime, etc) bundled.
Credit limit.
International calls and roaming easier and more affordable.
Postpaid Cons:
Expensive (almost 2x even with free OTT services).
Bill shock — if you accidentally subscribe to a value-added service, the worst that can happen on a prepaid connection is that the balance will become zero. Simple things like consuming additional data can result in a bill in the thousands.
Difficult MNP — Service providers reportedly try their best to retain you and switching to a different service or prepaid requires more time and paperwork.
Billing cycle is often monthly, which means you have to make a payment every month. Prepaid users, however, have long term plans which can be recharged once every 3 months or a year too.
Who needs a postpaid plan?
Postpaid plans are affordable for frequent international travellers. They have few advantages such as no data limits per day which is useful for binge-watching content at a stretch. Also, there's option to carry forward some of the unspent data. Most corporate houses have an option to reimburse their postpaid bills. If you are a regular user, you are better off with a prepaid connection and independent subscriptions to OTT services.