Bhubaneswar: To commemorate the victory of Prime Minister Narendra Modi and Chief Minister Naveen Patnaik's  victory in the recently-held Lok Sabha polls, miniature artist L Eswar Rao carved Modi and Naveen's faces on separate pencil nibs.
He also created photo frames of both the leaders fitted in glass bottles.
Rao said, "I made these miniatures to wish Modi on his huge victory for the second time and to welcome Naveen Patnaik, who will serve the people of Odisha for the fifth time."
The miniatures were made using several soft stones pasted to together to create a photo frame, he explained.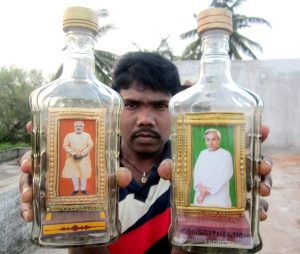 "Crafting faces of the leaders on pencil nibs was a humongous task," he said.
He created the miniatures in two days, though he had completed the stone photo frame before the verdict was out.
Once the results were announced, he fitted the frame to the glass.
"A lot of patience is required while carving miniatures as these can break even at the smallest of mistakes," he added.
Rao hails from Gopinathpur in Jatani.
His journey as a miniature artist began in 1999, when he gifted Taj Mahal carved out of a chalk to his teacher.
He started his own foundation 'Eswar Art and Craft Social Foundation' where he started training children for free while continuing with the miniature art. He has a museum of his own with his personal works on display.
Likewise, noted sculptor Rabinarayan Rath created a fiber statue of Chief Minister Naveen Patnaik after his success.
"As an artist we can pay tribute in this way only. Naveen Patnaik is the number one politician and I congratulated him for his fifth term," he said.
Internationally acclaimed sand sculptor Sudarsan Pattnaik had also wished Prime Minister Narendra Modi and Chief Minister Naveen Patnaik through his sand art.