Chill To Return In Odisha, Mercury To Dip By 3-4 Deg C
Bhubaneswar: Amid the prevailing dry weather conditions, the minimum temperature is likely to drop by 3-4 degrees in most parts of Odisha during the next 4-5 days, the India Meteorological Department informed on Thursday.
Shallow to moderate fog was seen at one or two places in Kandhamal, Balangir, Gajapati and Kalahandi and an appreciable fall in temperature at one or two places in South coastal Odisha, the MeT office added.
Notably, Similiguda recorded the lowest temperature in the last 24 hours at 13. 1 degree Celsius followed by Boudh at 13.5 degree Celsius. The mercury dropped to 19 and 19.5 degree Celsius in Bhubaneswar and Cuttack respectively.
According to the weatherman, Bhubaneswar will see a clear sky becoming partly cloudy sky towards evening with the minimum temperature hovering around 19 degree Celsius in the next 24 hours.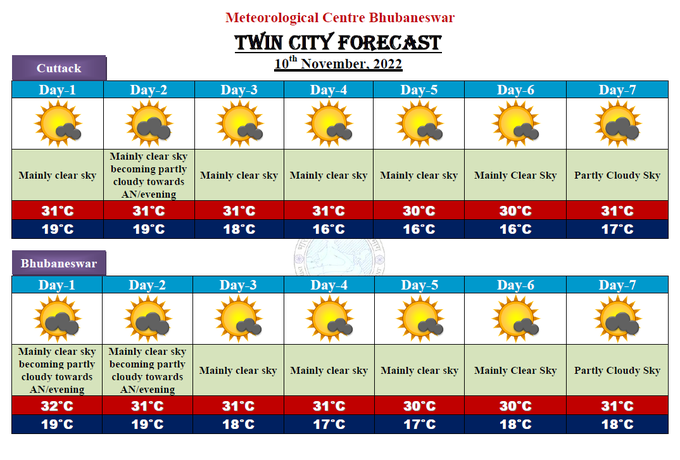 Meanwhile, the low-pressure area over Southwest Bay of Bengal off the Sri Lanka coast is expected to become more marked during the next 24 hours. "It is very likely to move northwestwards towards Tamil Nadu-Puducherry coasts till November 12 morning. Thereafter, it would move west-northwestwards across Tamil Nadu-Puducherry and Kerala during November 12-13," the IMD said.
While it has forecast widespread rainfall with isolated heavy to very heavy rainfall for Tamil Nadu, Puducherry, Karaikal, Rayalaseema and south Coastal Andhra Pradesh from November 11 to 13 and isolated heavy rainfall over Kerala & Mahe from November 11-14, the system will be no impact on Odisha.