Bhubaneswar: The circulation of a fake "intelligence report" on Monday evening here has raised eyebrows in political circles. The Opposition BJP used the "Intel report" to allege that Chief Minister Naveen Patnaik was worried about his declining popularity in Hinjili segment and has therefore chosen to contest from Bijepur Assembly segment as well.
Exactly a year ago, the political establishment in Karnataka was rocked by a similar "Intel report", claiming that then chief minister Siddaramaiah might find it difficult to win from Chamundeshwari Assembly segment in Mysuru.
Both letters carried the same content and were purportedly prepared by the 'SIB Political Desk' of the Intelligence Directorate. The Karnataka government had ordered a probe. Odisha police have also lodged an FIR in the matter.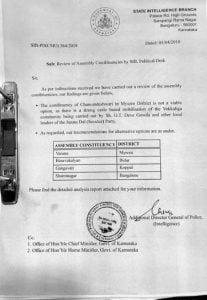 Political observers view the development with suspicion. They look at it as an attempt by the Opposition to sully the reputation of the ruling dispensation in the run-up to the polls. It is a first for Odisha. Interestingly, top BJP leaders have maintained a stoic silence on the issue.
"It could be part of a well laid-out strategy by the BJP to dent the winnability factor of the incumbent government," said a political observer.
He recalled circulation of a similar "Intel report" on social media some years back in Maharashtra, ahead of byelections to some Assembly seats there.
The Odisha unit of the BJP flashed the fake Intel report at a press conference here hours after the BJD announced its candidate list for the Assembly and Lok Sabha polls.
An FIR has been lodged at the Kharvel Nagar police station and the director-general of police has strongly refuted the existence of such a report. "A fake document purported to be assessment report of some Assembly segments by Odisha Police Intelligence Department has been shown in a press meet by a political party. The document is absolutely fake and fabricated. An FIR is being registered in this matter," the DGO tweeted.
Any Intel report is categorised as either top secret, secret or confidential. This report bears none of the categories. The insignia too is fake and easily distinguishable to even an amateur eye.