Cyclonic Storm Jawad Forms Over Bay; To Change Course From Tomorrow Evening, Says IMD DG
Bhubaneswar: The deep depression intensified into cyclonic storm Jawad at 11.30 pm on Friday.
The system is likely to move northwestwards and reach north Andhra Pradesh-south Odisha coasts by Saturday morning. Thereafter, it will recurve north-northeastwards and move along Odisha coast reaching near Puri around Sunday noon, the Bhubaneswar Meteorological Centre tweeted on Friday.
Also Read: Cyclone Jawad: Who Proposed This Name & What It Means
Director-General of IMD Mrutyunjay Mohapatra said that the system is moving in north-west direction gradually with a speed of 60 to 70 kmph gusting to 80 kmph.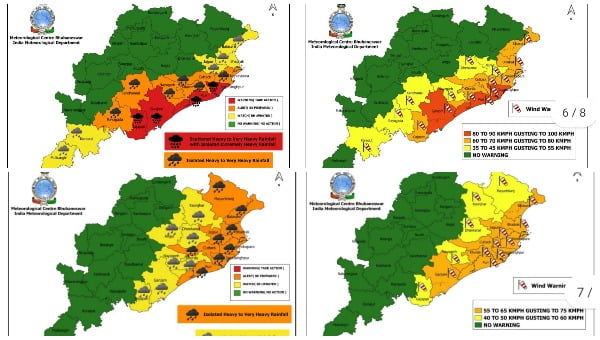 "Cyclone Jawad is likely to change its course from December 4 evening and it will lay centered near Visakhapatnam. Subsequently, it is likely to reach Odisha coast near Puri," he said.
After touching the coast, it will start weakening and move towards West Bengal, he said.
"Tidal waves are expected to reach 4-5 metres. The intensity of Cyclone Jawad will be more than Gulab and less than Titli," he added.
Squally wind speed reaching 45-55 kmph gusting to 65 kmph is likely to commence along and off North Andhra Pradesh – Odisha coasts from midnight of Friday and increase gradually becoming 80-90 kmph gusting to 100 kmph from Saturday evening, for the subsequent 12 hours, the IMD had earlier said.
Also Read: [Watch] Cyclone Jawad To Impact 5 Odisha District, Check Wind Speed; SRC Urges People To Store Drinking Water
Mohapatra said that several parts of Odisha and Andhra Pradesh will start experiencing moderate to heavy rainfall from December 3 and the intensity is likely to increase from December 4.
Coastal districts in Odisha, including Ganjam, Gajapti, Puri, Bhadrak, Balasore and the twin cities of Bhubaneswar and Cuttack, will also experience heavy rainfall.
Also Read: Cyclone Jawad To Hit Odisha Coast Near Puri On Dec 4 Evening!
Several parts of the state will continue to experience heavy to isolated heavy rainfall on December 5, he added.
RAIN FORECAST