Bhubaneswar: The ruling Biju Janata Dal is likely to nominate a leader from Sundergarh district as the party candidate in the forthcoming Rajya Sabha elections, party sources said on Wednesday.
If sources are to be believed, it could either be sitting MP Dilip Tirkey or former Western Odisha Development Council chairperson Padmini Sekhar Deo. While a section within the regional party is in favour of renominating Tirkey, who is a hockey legend, another group supports Deo on the ground that Tirkey could take on Union minister Jual Oram in the 2019 Lok Sabha polls.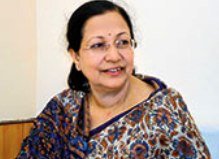 BJD president and Chief Minister Naveen Patnaik is slated to announce the party candidates for the biennial elections shortly. Media baron Soumya Ranjan Patnaik and eminent education entrepreneur Achyuta Samanta, both of whom joined the BJD in the morning, are almost certain to be fielded in the RS elections.
Elections to three Odisha RS seats, which would fall vacant due to completion of six-year terms of Tirkey, A U Singhdeo and A V Swamy, will be held on March 23.