Bhubaneswar: Four ponds have been constructed on banks of three rivers on the outskirts of the city for the idol immersion after Dussehra.
According BMC sources, arrangement have been made for immersion of around 200 idols in the temporary ponds. Two temporary ponds have been constructed on the banks of Kuakhai river, one on Daya river and the other on Bhargavi river bank. After being immersed in these ponds, the idols will be removed with the help of JCB and taken to the BMC dumping yard, the sources added.
As many as 172 pandals are being erected in the city.
The BMC has also requested Commissionerate Police to deploy forces on the river banks to ensure immersion of idols in a systematic manner.
On the other hand, Odisha fire service has asked all the puja organising committees to keep adequate amount of sand, water and at least four 5-kg fire safety equipment at the pandals.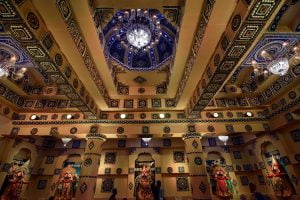 "The verification process is on and any pandal found violating the norms will not be given the NoC for organising Durga Puja," said assistant fire officer in-charge Rohit Kumar.
Besides, 24-hour fire safety services will be provided at major pandals, including Baramunda, Nayapalli, Rasulgarh, Sahid Nagar, Jharpada and Old Station, in the city. Along with advanced fire safety equipment, the fire officers and fire tender will be deployed at these pandals, he added.