Extremely Heavy Rain To Continue In Odisha Till Tomorrow Morning; IMD Warns Of Flash Floods
Bhubaneswar: With the low pressure area becoming more marked over Northwest Bay of Bengal and adjoining North Odisha-West Bengal, scattered heavy to very heavy rainfall with isolated extremely heavy rain will continue at some places in Odisha on Thursday.
This system is expected to move across Odisha and Chhattisgarh during next 2 days, the India Meteorological Department (IMD) informed.
The weather agency further said that the southwest monsoon has also been vigorous over the state, leading to widespread light to moderate rain/thundershower with heavy to very heavy at a few places and isolated extremely heavy rain in Balangir and Rayagada in the past 24 hours. "With intense spells of rain continuing during the next 24 hours, flood-like situation may occur in interior pockets with the likely increase in the water level of rivers in the state," IMD, Bhubaneswar, scientist Umashankar Das told a media briefing.
He added that the intensity of rain might gradually decrease from September 15.
SEPTEMBER 14
Red Warning
Scattered heavy to very heavy rainfall (7 to 20 cm) with isolated extremely heavy rain (>20cm) likely in Balangir, Kalahandi, Sonepur, Bargarh, Nuapada and Sambalpur
Orange Warning
Heavy to very heavy rainfall (7 to 20cm) may occur at a few places in Nabarangpur, Kandhamal, Boudh, Cuttack, Deogarh, Jharsuguda, Sundargarh, Angul, and Dhenkanal.
Yellow Warning
Heavy Rainfall (7 to 11cm) is also likely at one or two places in Keonjhar, Mayurbhanj, Koraput, Nayagarh, Jajpur, and Rayagada.
The IMD has warned of flash flood and waterlogging in low-lying area, inundation of agriculture field and mudslides/landslides in vulnerable hilly areas. There is also a possibility of some damage to kutcha roads and houses, waterlogging in underpass road and occasional reduction of visibility causing traffic congestion in urban areas. Farmers have been advised to postpone fertiliser/chemicals application in agricultural field and keep livestock at safe places. Mining activity may be judicially regulated in Angul and Dhenkanal districts, it added.
SEPTEMBER 15
Yellow Warning
Heavy Rainfall (7 to 11cm) may occur at isolated places in Nabarangpur, Nuapada, Bargarh, Jharsuguda and Sundargarh.
There is no heavy rain warning during the subsequent two days.
SEPTEMBER 18
Yellow Warning
Heavy Rainfall (7 to 11cm) is likely at one or two places in Koraput, Malkangiri, Nabarangpur, Rayagada, Gajapati, Kandhamal, Ganjam.
Thunderstorm with lightning may also occur at one or two places in  Malkangiri, Koraput, Nabarangpur, Rayagada, Gajapati, Ganjam, Kandhamal, Nayagarh, Khurda and Puri districts.
Notably, Odisha recorded 49.3 mm rainfall in the last 24 hours, and an average of 189.9 mm from September 1 to 14 against the month's average of 231.9 mm. Balangir block received the highest rainfall of 215 mm in the state. Bhubaneswar recorded 55 mm rainfall till 8.30 am this morning.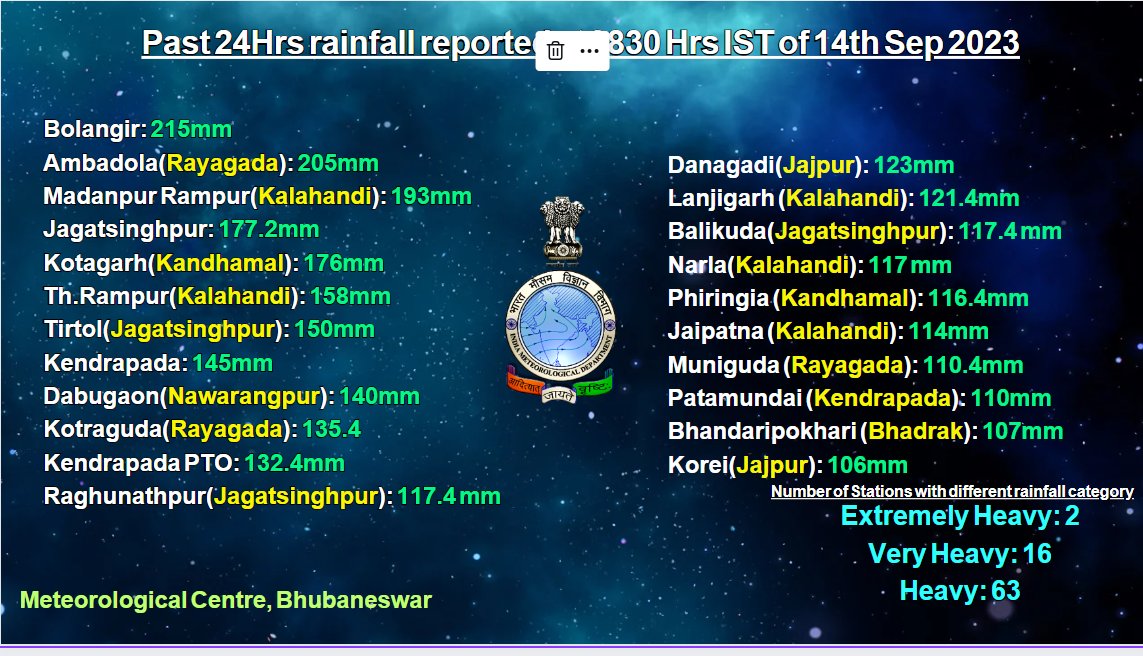 This wet spell has helped bridge the rain shortfall in Odisha, which recorded 975.2 mm rainfall against the normal value of 1044.9 mm till September 14 this monsoon season. While one district received excess rain and 25 are in the normal category, only 4 districts are deficient. "Nabarangpur, Kalahandi, Balangir, Rayagada, which had recorded a shortfall, have been receiving heavy rain," Das said, adding that intensity of rain might increase again from September 19.