Bhubaneswar: The second evening of OMC Guru Kelucharan Mohapatra Award Festival at Rabindra Mandap here was a beautiful blend of traditional repertoire and innovative compositions, featuring eminent Bharatnatyam dancer Navia Natarajan and tabla maestro Ojas Adhiya.
The first presentation by Navia Nataranjan was "Parashakti", the original creator, observer and destroyer of the whole universe. It was followed by an invocatory piece of pure dance. She held the audience spellbound with her flawless performance.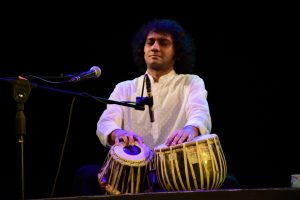 Ojas Adhiya's magical rhythm of fingers with a fine blend of Toda, Tukda, Tihyee, Chakradhar, Paran in Tin Tal with 16 beats reverberated the auditorium and received thunderous applause. He was accompanied on harmonium by Siddhesh Bicholkar.
The dignitaries who graced the occasion were noted tabla player Pandit Umesh Chandra Kar, actor-composer Sabyasachi Mohapatra and Srjan director Guru Ratikanta Mohapatra.