Train cancelled, rescheduled as rain washes away rly bridge in Rayagada
Bhubaneswar: Alert gangman averted an accident in Titilagarh-Rayagada Railway Section on Sunday by stopping a goods train as flash floods in Nagavali and Kalyani rivers washed away Railway Bridge Number 585 between Theruvali and Singapur Road railway stations around 11.05 in the morning.
Rayagada district received nearly 189.88 mm of rainfall in the past 24 hours, which has triggered a flood-like situation in Kalyansinghpur block. Due to the flash floods in both the rivers, over 70 per cent area of the block has been submerged in floodwaters.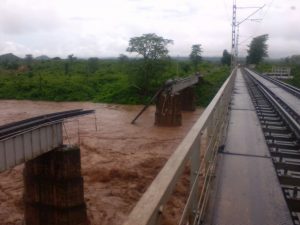 This has also affected train services on this route. The railways has controlled 18006 Jagadalpur-Howrah Samaleswari Express, 22847 Visakhapatnam-LTT Express, 12756 Nanded-Sambalpur Express, 57271 Vijayawada-Rayagada Passenger, 12808 Nizamuddin-Visakhapatnam Samata Express, 18301 Sambalpur-Rayagada Express, 12755 Sambalpur-Nanded Express and 58527 Raipur-Visakhapatnam Passenger.
The trains that have been cancelled are 18211 Durg-Jagadalpur Passenger leaving Durg today and 18212 Jagadalpur-Durg Express scheduled to leave Jagadalkpur on Monday.
The 18301 Sambalpur-Rayagada Express leaving Sambalpur today will run up to Muniguda and will return as 18302 Rayagada-Sambalpur Express from Muniguda to Sambalpur. Services of 18301/18302 Sambalpur-Rayagada-Sambalpur Express will remain cancelled between Muniguda and Rayagada from both the directions. The 58527 Raipur-Visakhapatnam Passenger leaving Raipur today will be short terminated at Titilagarh along with 18005 Howrah-Jagadalpur Samaleswari Express that left Howrah yesterday. The 18006 Howrah Samaleswari Express that left Jagadalpur today will run up to Rayagada and will return as 18005 Howrah-Jagadalpur Samaleswari Express from Rayagada to Jagadalpur.
Services of 18005/18006 Howrah-Jagadalpur-Howrah Samaleswari Express will remain cancelled between Titilagarh and Rayagada today from both the directions.The 58301 Sambalpur-Koraput Passenger that left Sambalpur today will be short terminated at Lanjigarh Road.
Similarly, 58302 Koraput-Sambalpur Passenger scheduled to leave Koraput on Monday will originate from Lanjigarh Road instead of Koraput. Services of 58301/58302 Sambalpur-Koraput-Sambalpur Passenger will remain cancelled between Lanjigarh Road and Koraput from both the directions.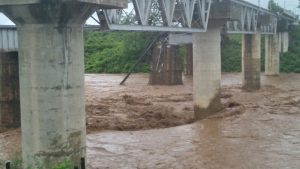 Restoration Work
Official sources said restoration efforts are on and senior officers have rushed to the site. Materials are being sent and work will start once the flood water recede.
Strict watch on the situation
Emergency control rooms have been opened at Bhubaneswar, Sambalpur, Khurda Road and Visakhapatnam. All DRMs are personally monitoring the situation. Principal Chief Engineer of Railways has already advised local divisions to put in all available resources to restore traffic early.
General Manager Shri Umesh Singh enquired about the flood position and advised restoration on high priority. Men and materials from neighbouring divisions will be marshalled quickly for this unprecedented situation, the GM assured.