Ranveer Singh was like a breath of fresh air in the Hindi film industry when he made his debut as Bittoo Sharma in Band Bajaa Baaraat. It has taken him only eight years to cement his position as one of the hottest and most selling stars in the film industry. He has also made it clear through his performances that he is here to stay. He has proven his histrionic abilities in different genres, be it action, dance, comedy or playing character roles. Let us track his journey.
Band Baja Baaraat
Ranveer's co-star in this film was Anushka Sharma. This was her third Yash Raj film in a row. The song Ainvayi Ainvayi caught the imagination of the audience and it was clear that a top star with an X factor had arrived. To his credit, Ranveer, a typical Mumbai boy otherwise, worked hard, including taking acting classes and spending time in Delhi University to ensure he fitted the part of a Delhi boy, as per the demands of the script. Impressed by his acting, Sanjay Leela Bhansali signed him for Goliyon ki Raasleela; Ram-Leela.
Ladies vs. Ricky Behl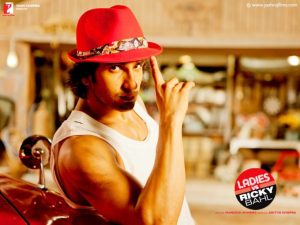 This too, was a Yash Raj movie directed by Band Baja Baaraat director Maneesh Sharma. Based on Jeffrey Archer's Not a Penny More, Not a Penny Less, this small budget movie of less than Rs 20 crore grossed Rs 84 crore and established Ranveer, Anushka and Parineeti as stars.
Lootera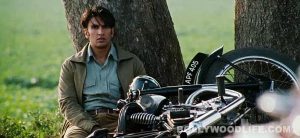 Ranveer's third movie, with Shonakshi Sinha did not do well commercially but got him tremendous critical acclaim.
Goliyon ki Raasleela; Ram-Leela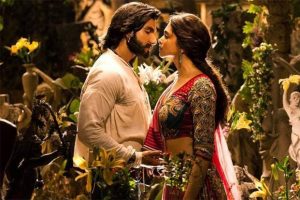 Ranveer's opening scene in the song Tagad Tagad showcased his star power in his fourth movie. A big budget movie of Rs 88 crore, it grossed Rs 220 crore to be a super hit. Ranveer Singh worked out like crazy to get the chiselled look required for the movie. He later revealed that he worked out both in the morning and the evening, remained on a strict diet and had alcohol only once or twice-in the entire year.
Bajirao Mastani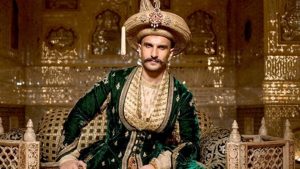 Ranveer locked himself up in a hotel room for three weeks for this movie as he wanted to make the audience to actually believe that they are watching a Maratha warrior. His full concentration was on physical training and taking classes on accent and diction. This too was a dream project for Bhansali and Ranveer did full justice to his assigned role and even picked up the Filmfare Best Actor Award.
Padmavaat
This too was a Sanjay Leela Bhansali creation. Ranveer played the negative role Alauddin Khilji to perfection. He once again worked out to justify his role, and was on an energy rich diet sans sugar, while working out twice a day to transform from a lean and sporty look to what he describes as "macho-esqe bulky". The movie was a blockbuster.
Simmba
This is his out-and-out masala film outing. It crossed Rs 100 crore in just five days and established Ranveer as a star with 'initial" power to draw crowds to the theatre. It has also reinforced Rohit Shetty as a one man brand. Ajay Devgn's Singham character plays an important cameo in the movie. An interesting feature of Simmba was a Hollywood style after-credits in which Akshay Kumar speaks to Singham and the audience thereby knows that Rohit Shetty's next movie stars Akshay. Sony Sood excels as the villain and there is a meaningful dialogue between Ranveer and Sonu, which indicates that Rohit Shetty is planning Simmba Part 2.
Ranveer has many exciting projects in the pipeline and given his track record, he will only come up to expectations.
One is looking forward to seeing him as Kapil Dev in a biopic of the iconic cricketer.