Get Well Soon Messages Flood Social Media As Fans Pray For His Early Recovery
Bhubaneswar: The news of actor-comedian Papu Pom Pom falling ill left his fans crestfallen.
The actor is on ventilator support at AIIMS-New Delhi after being diagnosed with liver and pancreatic ailments. Even as he is showing improvements in certain health parameters, social media has been flooded with 'Get Well Soon' messages from fans in Odisha and elsewhere.
A few fans posted collage of their photographs with the actor with 'Get Well Soon' Messages. One of them even wrote a letter for the much-loved comedian.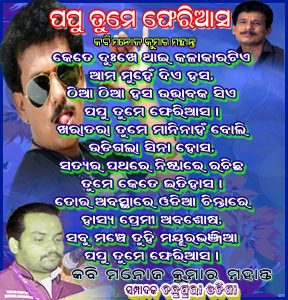 Since the news of his ailment spread, special prayers have been organised in different parts of the state for his early recovery. A special prayer was organised at the Laxminarayan temple in Balasore recently by local artistes. In Baripada also, a group of students of Mayurbhanj Chhau Nrutya academy also offered prayers.
In Bhubaneswar, diyas were lighted at Ram Mandir for the actor.
The Cine Artists' Association has also extended financial support to the ailing actor.
Papu Pom Pom's real life has been no less dramatic than the reel one. Coming from a nondescript village in Mayurbhanj district, his rise to fame is nothing short of magical.
Moving to Bhubaneswar with the love of his life, Sangeeta – now his better-half, Papu Pom Pom did odd jobs – from working at a betel shop to playing cook/help to a senior actor, in his initial days of struggle.
Things took a turn when he started working for a private radio channel and later joined a TV channel as a comedian. And as they say, the rest is history. Papu Pom Pom's shows did so well that he started getting movie offers and soon carved a niche for himself as Odisha's best comic artiste.
From rags to riches, Papu Pom Pom did have a share of controversies as well. In a major embarrassment to the actor, in 2016, he was charged with sexually abusing a minor in exchange of a role in a movie. He was arrested and lodged in Jharpada Special Jail in one of the most shocking casting couch revelations in the Odia film industry.
He was again in news in March this year, when he alleged he was getting threat calls over a land issue.