#IamThatWoman: Centre launches 'women for women' campaign
New Delhi: In an attempt to end gender bias in women against women, the Union ministry of women and child development is undertaking an online campaign #IamThatWoman, said an official release on Tuesday.
 
According to the release, through the campaign, the Centre is seeking to highlight the various aspects of women standing 'by' and 'for' women. The WCD ministry has urged people to shun stereotypes associated with women harming other women. Twitter and Facebook users have been encouraged to tag and share stories of women helping women with a photograph and post online with the hashtag #IamThatWoman.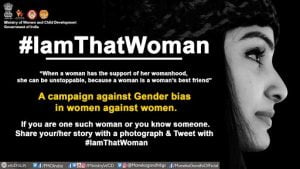 Minister for Women and Child Development Maneka Gandhi said, "When a woman has the support of her womanhood, she can be unstoppable. Through this campaign, we aim to shed light on the enormous contributions made by women for women. A mother-in-law can be her daughter-in-law's best companion. It is time we did away with the 'in-law' in 'daughter-in-law'. A woman manager can easily empathise with her female juniors and help her climb the ladder of success. Likewise, a landlady's affection towards a female tenant makes a world of difference in making the young girl feel at home, away from home. Join the '#IamThatWoman' campaign and spread the message that a woman can move mountains for another woman."
 
Posts can be made on the links given below:
 
Twitter Minister: @ManekaGandhiBJP
Twitter Ministry: @MinistryWCD
Facebook Minister: @ManekaGandhiOfficial
Facebook Ministry: @MinistryWCD