India Remembers The Man With A Vision Biju Patnaik; Check Some Rare Pics
Bhubaneswar: People from all sections of life and political leaders cutting across party lines paid rich tributes to Chief Minister of Odisha Biju Patnaik on his 25th death anniversary on Sunday.
Chief Minister Naveen Patnaik paid floral tributes to the statue of the legendary leader on the Assembly premises. Speaker Surjya Narayan Patro, deputy speaker Rajani Kant Singh, ministers Bikram Keshari Arukha and Raghunandan Das, legislators Ananta Das, Prafulla Samal, Debi Mishra and Pramilla Mallik, among others, were present.
Several programmes are being organised across Odisha to commemorate the day. Bhubaneswar Mayor Sulochana Das and all the three MLAs, among others, took part in a special programme organised at Biju Patnaik Park in Bhubaneswar.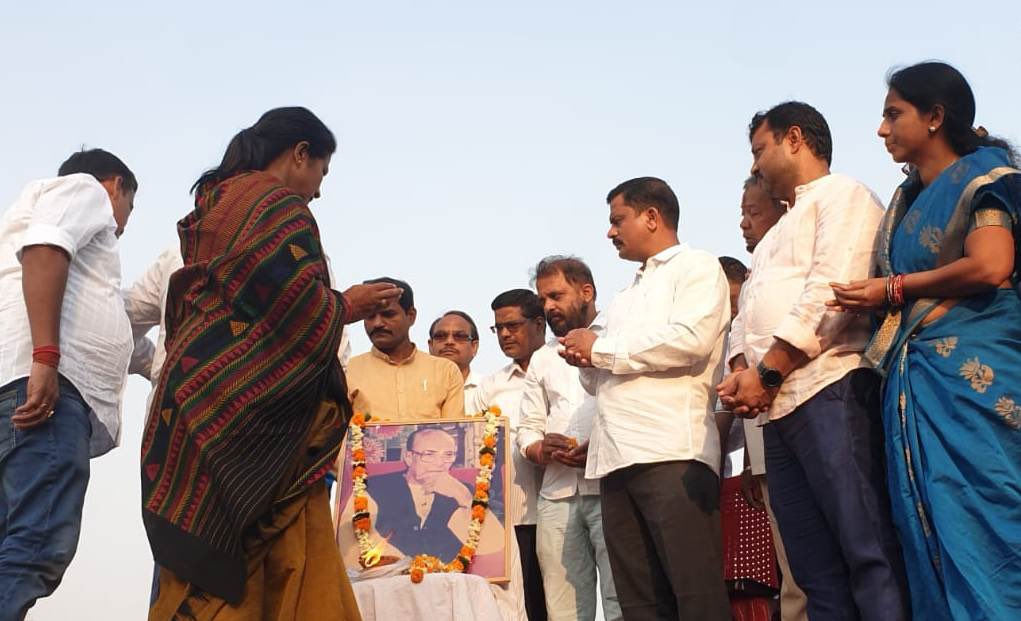 The Biju Janata Dal (BJD) is observing the death anniversary of one of the chief architects of the modern Odisha today at the party headquarters in Bhubaneswar.
CHECK THE TWEETS HERE:
ମହାନ ଜନନାୟକ ତଥା ପୂର୍ବତନ ମୁଖ୍ୟମନ୍ତ୍ରୀ ବିଜୁ ପଟ୍ଟନାୟକଙ୍କ ତିରୋଧାନ ଦିବସରେ ମୁଖ୍ୟମନ୍ତ୍ରୀ ଶ୍ରୀ @Naveen_Odisha ପୁଷ୍ପମାଲ୍ୟ ଅର୍ପଣ କରି ଶ୍ରଦ୍ଧାଞ୍ଜଳି ଜଣାଇଛନ୍ତି। ଏହି ଅବସରରେ ରାଜ୍ୟର ପ୍ରଗତି ସହ ଲୋକଙ୍କ ଉନ୍ନତି ଓ କଲ୍ୟାଣ ପାଇଁ ତାଙ୍କ ଅବଦାନ ବିଷୟରେ ସେ ସ୍ମୃତିଚାରଣ କରିଛନ୍ତି। pic.twitter.com/xcS75GcB0X

— CMO Odisha (@CMO_Odisha) April 17, 2022
ଓଡ଼ିଶାର ପୂର୍ବତନ ମୁଖ୍ଯମନ୍ତ୍ରୀ ବିଜୁ ପଟ୍ଟନାୟକଙ୍କ ଶ୍ରାଦ୍ଧବାର୍ଷିକୀ ଅବସରରେ ଶ୍ରଦ୍ଧାଞ୍ଜଳି । pic.twitter.com/2QICy0uCzh

— Dharmendra Pradhan (@dpradhanbjp) April 17, 2022
Remembering Indian Politician, Aviator and Former Chief Minister of Odisha Biju Patnaik ji on his death anniversary. pic.twitter.com/BJTL53OFBe

— Nitin Gadkari (@nitin_gadkari) April 17, 2022
Humble tribute to great public policy maker, former chief minister of Odisha & great politician Biju Patnaik Ji on his death anniversary. I learnt a lot from him. pic.twitter.com/rFKPKCDAeH

— Suresh Prabhu (@sureshpprabhu) April 17, 2022
Homage to Shri Biju Patnaik on his Punyatithi.

Biju babu was a visionary leader, ace pilot, maker of modern Odisha and a real life hero🙏 pic.twitter.com/avZLOFiefI

— Naveen Jindal (@MPNaveenJindal) April 17, 2022
Humble tributes to freedom fighter and former CM of Odisha, Shri Biju Patnaik, on his death anniversary. He was a leader who still inspires millions, and is remembered for his lasting contributions to Odisha. pic.twitter.com/oOmRg18tev

— Niranjan Patnaik (@NPatnaikOdisha) April 17, 2022
Humble tributes to freedom fighter &former CM of Odisha, Shri Biju Patnaik, on his punyatithi. In the larger interest of Odisha, he maintained cordial relations with even his opponents, & earned respect from all sections. We should emulate many good things about his personality. pic.twitter.com/5c1jgl0pTg

— Navajyoti Patnaik (@NavjyotiPatnaik) April 17, 2022
A rare photograph. But one can see how the father was grooming his sons.

The legendary son of Odisha BIJU PATNAIK guiding Prem & Naveen from an early year of boyhood.@Naveen_Odisha @Agragami @punarbashu @Amar4Odisha @GurukalyanMoh15 @swayamjourno @SoumyaSambad pic.twitter.com/zpSUyQ3srX

— Manas Das (@dasmanas) April 12, 2022
Tribute to legendary Biju Patnaik on his death anniversary. One of the greatest Odia of the last century.
His contribution to Odisha is immense.

Here is one example where he ensured that the Mig factory was set up in Odisha even though strong opposition from others. Do read. pic.twitter.com/Rg0dXR0y7A

— Kalinga Arya (@KalingaArya) April 17, 2022
Humble tributes to Former Chief Minister of Odisha, Bhumi Putra #BijuPatnaik ji on his punyatithi.
He was honoured the highest honor of Indonesia.
His important contribution in Nation building will always be remembered. pic.twitter.com/8UfBXgyaXB

— Papun Satapathy🇮🇳 (@OdishaPapun) April 17, 2022
#BijuBabu lives in the hearts of millions of Oriyas.Paid tribute to the legendary leader and 'Son of the Soil' Biju Patnaik on his death anniversary.🙏💐#RasmiRanjanBishoi SandAnimation Art' pic.twitter.com/oD1Qj2j42C

— Rasmi Ranjan Bishoi (@RasmiRanjanArt) April 17, 2022
Remembering the Age Man,a versatile Son of the Odia Soil & an adventurous Statesman #BijuBabu on his 25th Death Anniversary #OdishaLoves u sir
O still remember in 1995 I saw u in an ambassador car in my Dist Kalahandi A man with vision @Naveen_Odisha @gapg_dept @MoSarkar5T pic.twitter.com/97v8ul8a7h

— Citizen/NAGRIK/Deshwasi/Pranav (@pranavkesinga) April 17, 2022
This is a rare picture of the great Man #BijuBabu

Thanks for the share @VAdkri 🙏 https://t.co/BUqXSKGxiO

— d@$h🧢 (@the_dbrat) April 17, 2022
A tribute to #BijuBabu.
🙏🙏@bjd_odisha @Naveen_Odisha @BJDLegalFront @BYJD_Odisha pic.twitter.com/MjYg6z6SQF

— SANTOSH KUMAR MISHRA. ADVOCATE. NABARANGPUR.ODISHA (@santosh_adv_pm) April 17, 2022
Tomorrow is the #DeathAnniversary of Legendary #BijuBabu . In 1997 on 17-April Biju Babu left all of us…But till today also he is alive in the heart of #Odia's …. His ideas are still much ahead if this time …. His works are still stremendous…#BijuBabuARealHero pic.twitter.com/vo57W3T1VQ

— The Voice Of Odisha (@TheVoiceOfOdis1) April 16, 2022
#BijuPatnaik #bijubabu #Odisha @Naveen_Odisha pic.twitter.com/XlUmyTYReh

— Sai Anurag Das. ସାଇ ଅନୁରାଗ ଦାସ. (@saianuragdas) April 17, 2022