Jai Odisha launches 'Suraksha' campaign to assist senior citizens
Bhubaneswar: With an objective to help senior citizens lead a better life, city-based voluntary youth organisation, Jai Odisha, launched 'Suraksha' campaign at Buddha Mandir here on Sunday.
As many as 100 senior citizens participated in the launch ceremony and registered with it. Among others, former diplomat Abasar Beuria and former IAS officer Suresh Mantry graced the occasion.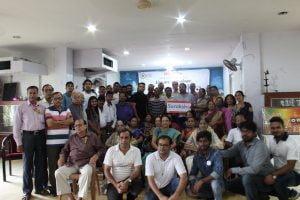 During the event, Dr Nalini Kanta Mishra addressed health concerns of the senior citizens. The problems faced by senior citizens were discussed along with remedial measures that need to be taken. "Senior citizens need not think that they are alone. Jai Odisha has launched this initiative to ensure that they are assisted in every possible way," said founder of Jai Odisha Rudra Narayan Samantaray.
Besides weekly telephonic calls to know their well-being and personal visit by volunteers, they will be provide assistance for police verification of domestic help and drivers and technology assistance, he added.
A magic show was also organised on the occasion.