Knowledge & Innovation To Drive India Forward: Gadkari
Bhubaneswar: Knowledge and innovative research along with appropriate technology and policy decisions were needed for the country to move forward, the Union Minister for Road Transport, Highways and MSME, Nitin Gadkari, said.
"A lot depends on vision, technology and knowledge as they can convert waste into wealth," Gadkari said while addressing the 6th convocation of SOA deemed to be university here on Saturday.
The Union minister lauded SOA for its contributions to research and higher education. "SOA is not only recognized today at the national level but also on the international platform," he said, referring to the university's global ranking recently.
Expressing happiness over SOA's 13 research centers and 38 laboratories, Gadkari said, "The country needed to place greater focus in this area while steps should be initiated to strengthen the knowledge base."
Odisha Governor Prof Ganeshi Lal was the chief guest at the convocation. Union Minister for Petroleum, Natural Gas and Steel Dharmendra Pradhan and Odisha's Minister for Higher Education, Agriculture and Farmers' Empowerment Arun Kumar Sahoo were also present.
SOA Chancellor Prof Khageswar Pradhan presided over the function and Vice Chancellor Prof Amit Banerjee presented the report.
Gadkari informed that research is also on to use bio-fuel for flying aircraft. A SpiceJet flight from Dehradun to Delhi has flown using 25 per cent Jatropha oil as aviation fuel, he said.
He also laid stress on development of agriculture, which holds "immense potential to generate employment".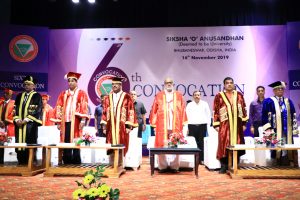 Addressing the gathering, the Governor said along with technology and innovation, there was also need for theological learning. "I must realize that I'm an eternal fragment of the power who created this world and sent me into this planet," he said.
"God created man in his own image," he said quoting the Bible while emphasizing that man had no choice but to be happy here. "The need is to accept and love everyone as pluralism and diversity is in our genes," he added.
Union Minister Dharmendra Pradhan described SOA as a prestigious university for making a mark in the fields of higher education and research. "The university should come up with new ideas and compel the policy makers to accept them," he said.
"There is no dearth of resources in Odisha but the ideas should come from the universities as to how to ignite a spark to take the state along the path of development," he said.
On his part, Arun Kumar Sahoo praised the university's decision to set up the Centre for Environment and Climate. "It is a timely step in the face of serious environmental challenges faced by the state," the minister mentioned.
The Chancellor said India's economic progress and transformation into a developed country was intrinsically linked to its education system and skill development. "The present education system was plagued by rote learning and most of the students tend to forget what they had learned after the examination. This is one of the fundamental flaws of our education," he said.
The Vice-Chancellor said SOA had been ranked among the top 25 Indian universities consecutively in 2018 and 2019. It had also broken into world rankings by being placed in the 600 plus category by the Times Higher Education (THE) World Ranking.
He said adding SOA had been granted Graded Autonomy by the UGC while three of its technical programs had been accredited by the Accreditation Board for Engineering and Technology (ABET) of USA.
Prof Banerjee said altogether 167 Ph.D. degrees were being presented to the scholars at the convocation in addition to four Chancellor's Gold Medals and 132 University Gold Medals to the students who had excelled. Degrees had been presented to 4542 under graduate and 1243 post graduates students who passed out from the university.
Honoris Causa (Doctor of Science) was presented on the occasion to Prof. Debiprosad Duari, a distinguished scientist in the domain of astronomy and astrophysics, who is presently the Director of the Birla Planetarium at Kolkata.