Kolkata Rocking To 'Rangabati' This Durga Puja
Kolkata: The fragrance of Shiuli and the sound of Dhaak floats through the City of Joy during the nine-day Durga Puja festivities as it transforms into an art expo, showcasing varied cultures and traditions.
Durga Puja here is not just about pandal hopping or biryani and fish fry but also foot tapping music – ranging from old to the latest Hindi music and purono Bangla gaan. And 'Rangabati', the timeless Sambalpuri folk number re-rendered in Bengali by Surajit Chatterjee and Iman Chakraborty for the Bengali movie 'Gotra', seems to be the flavour of the season.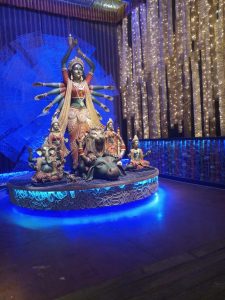 From Garfa Road at Jadavpur to Mahabirtala on Tollygunge Circular Road, the song is being played to full volume in every puja pandal.
Madhusmita Das, an Odia homemaker and resident of Abash Apartments at Garfa said, "It feels good to hear this song all day. It brings back memories of home."
The younger generation is loving the peppy number and swinging to it too. "This song automatically sinks in," said Biraja Prasad Pradhan, a Class VII student.
The original singers of this cult Sambalpuri song are Jitendriya Haripal and Krishna Patel.
Prior to Puja, singer Iman Chakraborty had exuded confidence about this song. In a Facebook post, she wrote: "This puja #Rangabati is going to rock in all puja pandals. Please listen to the song again."