Bhubaneswar: The opening day of 22nd Asian Athletics Championships on Thursday saw India put up a strong show and lead the medal tally with two gold, one silver and three bronze, with China just behind on the bronze count.
Shot putter Manpreet Kaur bagged the first gold medal for India. The excitement was palpable as it was also her 27th birthday.
Manpreet, who won gold with a throw of 18.28 metres, will now focus on the IAAF World Championships in London next month. China's GuoTianqian took silver with a best of 17.91m while Japan's Aya Ota claimed bronze with a throw of 15.45m.
Manpreet, who had already qualified for the World Championships, said: "These were challenging conditions because of the high humidity and hence it wasn't easy to get a grip on the ball. Considering that, I'm delighted with my performance. And a gold is a gold, no matter what."
India got the second gold in men's 5000m through G Lakshmanan. With this, he too secured a berth for next month's games in London.
Defending champion Vikas Gowda, however, failed to retain his title in the men's discus throw event. He surrendered his double Asian Championships crown to long-time nemesis and Olympic silver medalist Ehsan Haddadi of Iran, settling for a bronze medal as India opened its medal account with this result.
Gowda, who had won the last two Asian Athletics Championships titles and two silvers in the preceding editions, came up with his best of 60.81m in his fourth attempt, but eventual silver medalist Muhammad Irfan of Malaysia trumped his effort with the fifth throw of 60.96m. Haddadi, however, bested both of them with his final throw of 64.54m to add to his impressive medals tally.
"I had been struggling to find my technique for the last couple of weeks, so in that regard I think I did okay. Because of the short arrival it took me a couple of days to acclimatize, but these things are a part of the game," Gowda said.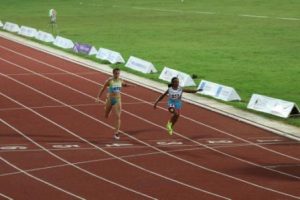 National champions and local heroes Dutee Chand and Amiya Kumar Mallick also put their best feet forward by advancing into the semi-finals of the 100m sprint event in the evening session on Day 1 of the Championships. Mallick qualified third from Heat 1 of the men's 100m with a time of 10.48 seconds in the event that saw six heats, which also included Asian record holder in the 100m and 200m Femi Seun Ogunode of Qatar, who strolled into the semis with a leisurely 10.29 seconds.
Both the men's and women's sprint events were riddled with false starts, but Dutee Chand set the pace in the women's 100m in Heat 3, qualifying with the fastest time of 11.40 seconds, accelerating and pulling away in the last third of the race against Olga Safronova of Kazakhstan. Her nearest competitor was Kazakhstan's Viktoriya Zyabkina, who finished with 11.50 seconds in Heat 1.
There was more to cheer for India in the evening session with India's Sanjivani Jadhav finishing third in the women's 5000m final, behind Daria Maslova of Kyrgyzstan and Alia Mohammad of UAE, who won gold and silver respectively. Lakshmanan, however, raised the volume of a spirited crowd with his victorious run in the men's event with a timing of 14:54.48. Yaser Salem of Qatar and Tariq Ahmed of Saudi Arabia finished second and third.
The women's long jump final saw V Neena take second place behind Vietnam's Bui Thi Thu by a whisker, as they were tied at the top spot with both getting 6.54m. However, Bui Thi Thu's second best effort was higher than Neena's which broke the deadlock and gave the Vietnamese gold and Neena had to settle for silver. Nayana James finished third with her effort of 6.42m.
The men's pole vault fetched China its second gold medal of the evening with Ding Bangchao clearing a height of 5.40m. Thailand's Patsapong Amsam-Ang got silver with his effort of 5.30m and Saudi Arabia's Hussain Asim rounded out the medals by taking bronze.
The women's javelin event saw India clinch a bronze medal with Annu Rani throwing a best of 57.32 in her very first attempt, but China's Li Lingwei continued her success at Asian Championships by winning her second gold medal with a distance of 63.06m, to add to her first-place finish in Pune in 2013. Nadeesha Dilhani Lekamo of Sri Lanka won silver with a throw of 58.11m.
Day 2 of the action at the Asian Athletics Championships will see Olympic hammer throw champion DilshodNazarov of Tajikistan take the field. More Indians will be in with a chance for medals on the second day with Muhammed Anas, Amoj Jacob and Arokia Rajiv qualifying for the final of the men's 400m, while MR Poovamma, Jisna Mathew and Nirmala Sheoran all qualified for the women's 400m final.