Mercury Drops To 6.4°C At This Place In Odisha; Check Night Temp In Bhubaneswar, Cuttack
Bhubaneswar: With the winter chill intensifying in Odisha, the mercury plummeted to 6.4 degree Celsius at Similiguda in Koraput districts, the regional centre of India Meteorological Department (IMD) informed on Wednesday.
The night temperature hovered around 10-degree celsius and below at G Udayagiri (8), Phulbani (10) and Daringbadi (10.5) in Kandhamal district and Koraput (10).
Similarly, Bhawanipatna in Kalahandi and Boudh recorded 12 degree Celsius each while Jharsuguda and Keonjhar experienced a chill at 13.2 and 13.4 degree Celsius respectively. Ranital in Bhadrak saw the minimum temperature drop 13.6 degree Celius followed by Angul at 14 degree Celsius, Deogarh at  14.2 degree Celsius, Sundargarh at 14.5 degree Celsius and Paralakhemundi in Gajapati also at 14.5 degree Celsius and Hirakud in Sambalpur at 14.6 degree Celsius.
Malkangiri, Titlagarh in Balangir, Sonepur and Mahisapat in Dhenkanal recorded 15 degree Celsius each.
The twin cities of Bhubaneswar and Cuttack registered a minimum temperature of 16 and 16.4 degree Celsius respectively.
Check the temperature at other places in the state: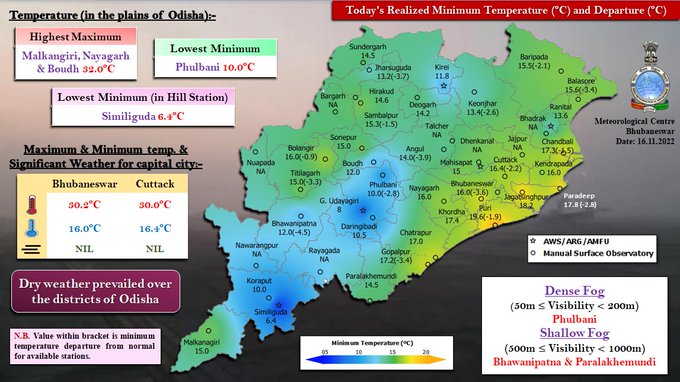 According to IMD, the minimum temperature is likely to remain 2 to 4 degree below normal at many places in Odisha during next 4 to 5 days.