NIC Bhubaneswar: 'Discover Yourself To Connect With Society'
Bhubaneswar: Speakers at the valedictory ceremony of the weeklong National Integration Camp (NIC) exhorted students to give back to society and live for human values and not get lost in the vortex of earning riches and fame. The camp was organised by the Regional
Directorate of NSS and the SOA (deemed to be university) here on Sunday.
"It is important to discover yourself to connect to the society," Prof. Soumendra Mohan Patnaik, Vice-Chancellor of the Utkal University, told more than 200 NSS volunteers drawn from 21 universities of 10 states including hosts Odisha.
"Aspiring to become extra-ordinary is an ordinary wish. You can scale greater heights by remaining ordinary," he told the students. Prof. Ashok Kumar Mohapatra, eminent neuro surgeon and SOA's Director (Health Programmes) and Mr Jagadanand, eminent social worker, were the guests of honour at the programme which was presided over by the Vice-Chancellor of SOA, Prof. Amit Banerjee. Mr. R.Gokulkrishnan, Regional Director of NSS, Dr. Jyoti Ranjan Das, SOA's Dean (Students' Welfare) and SOA's NSS Programme Coordinator Dr. Nachiketa K. Sharma also spoke.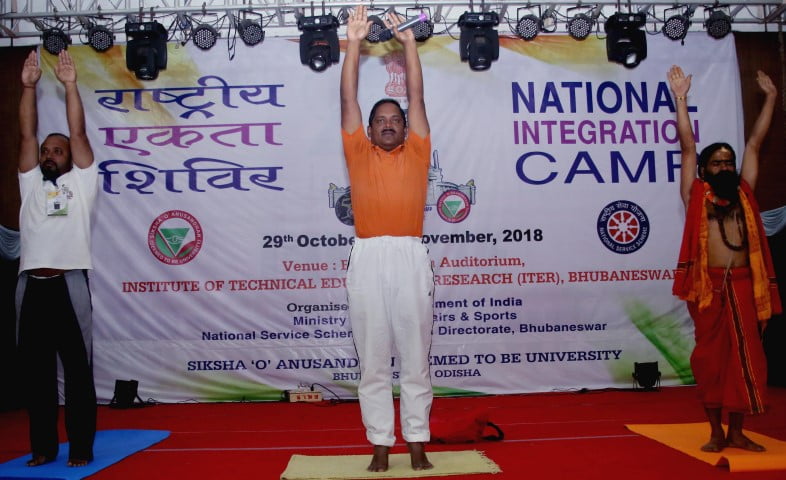 Mr. Jagadanand said the NSS camp would help the students to connect to the society. "These seven days will help you understand that you are here to serve the society," he said. Prof. Mohapatra said, "Money is not happiness…. but happiness is a mindset. You need a balanced mind and ability to relax."

NSS volunteers from the states of Assam, Andhra Pradesh, Chhatisgarh, Gujarat, Jharkhand, Madhya Pradesh, Maharashtra, Telengana, West Bengal and Odisha took part in the camp. The participants began the day with yoga and took part in group discussions, interactive sessions, quiz programmes and listened to educational talks by professionals from different walks of life. A fire safety demonstration was conducted for the benefit of the participants who also went through a health check-up. The highlight of the camp, being
organized to mark the 150th birth anniversary of Mahatma Gandhi and 50th anniversary of NSS, was the release of a special postal cover on Saturday. The cover depicted the Shanti Stupa, a prominent landmark of Bhubaneswar city representing peace, the ingrained philosophy of Lord Buddha, and reflected the concept of 'ahimsa'. It also carried the
logos of NSS and SOA.