Bhubaneswar: Retired officer Durga Charan Mishra and his wife Jotshna Mishra both have youthful energy. Together, they have created a new Guinness World Records title in the category, 'Longest journey by scheduled public transport in a single country.
This is their second world record. In 2014, they achieved the first Guinness World Record in the category, 'Longest journey by car in a single country.'
The couple's journey began from Puri on February 18 this year. "We have covered almost every corner of India, from Dibrugarh in Assam, Agartala in Tripura, Nagaland to Kutch and Bhuj of Gujarat and from Jammu Kashmir to Tamil Nadu and Kerala," said Durga.
They returned to Puri on March 30 after a long journey of 40 days, covering a distance of 29,119 km by using public transport only.
The previous record was 9,261 km by Ciprian Ghiocea (Romania) on September, 2017.
"We beat the previous record by over 19,858 km (12,000 miles)," he added.
The context of the record was only by public transport including buses and trains, Durga said. As per the guidelines, under no circumstances, any chartered, tourist, private buses, taxis, auto, tonga or horses are allowed during the journey, he added.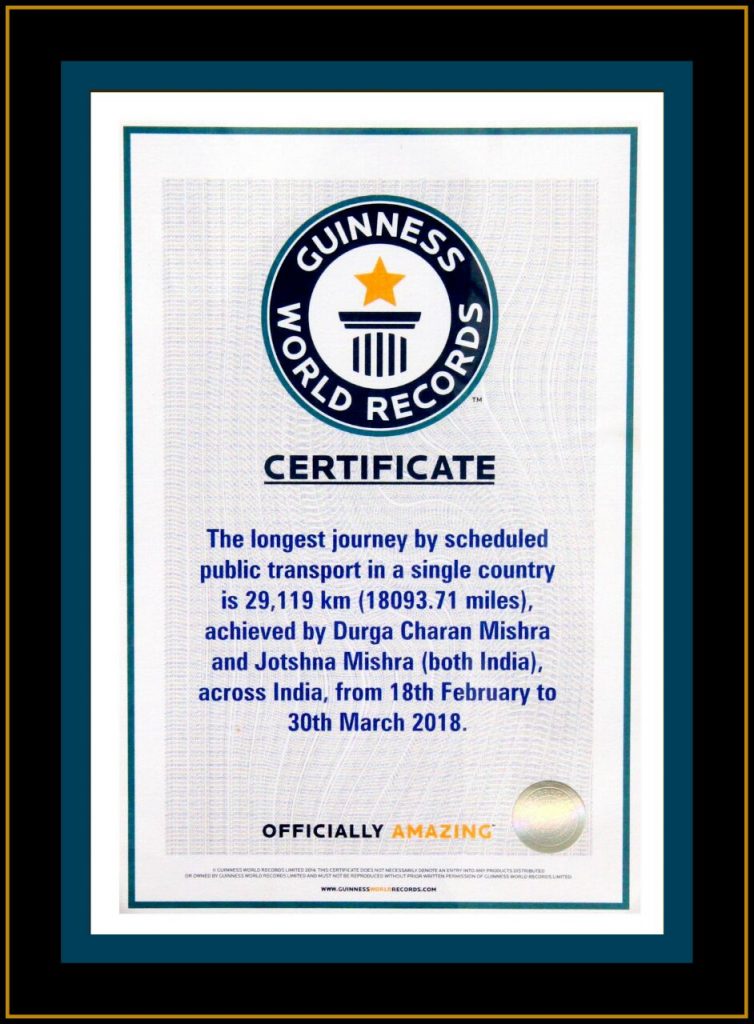 "We chose to stay at railway platforms. We also love travelling by train, meeting local people and seeing the landscape. It has really changed my life, made me happier and more confident," said Durga.
The entire period of the journey was tracked by a GPS tracking unit.
"Both of us have travelled together many times on the motorcycle and car in the past last 20 years," said Durga.
Their achievements include Guinness World Records, World Records Academy-USA, National Record, Limca Records, Asia Records, India Records and many more.
Durga retired from ASRTU under the Ministry of Transport, Government of India, New Delhi in 2011 and lives in Puri at present.
"The journey was very tough. We faced a lot of problems for food. The trains were late many times. We had to manage time carefully. We had to walk from the stations to the tourist point. We had to face many challenges. Still there was a positive vibe, which made our journey successful," said Durga.
"We plan the route. We check the climate and weather conditions of the state before the journey. It takes five to six months to plan a journey," he added.
"Though there are some problems in each journey, India is the best country and its people are very good and cooperative," said Durga.
"We used to mingle with people and exchange our ideas. Many also got inspired by us," he said.
"I have a daughter and a son. We consulted them before the trip as they always worry about our health," said 67-year-old Durga.
"I believe in Lord Jagannath and with his blessings, we will plan our next trip, which is not yet decided," he added.