'Odisha's Omission From Centre's Iconic Sites List, A Chance At Introspection'
Bhubaneswar: To say that Odia people in general and the Odisha government in particular has taken offence to Centre's omission of the state from the list of 'world-class tourism destinations', would be an understatement.
The Odisha government has made its displeasure known without mincing words. "This is a very serious matter. How can Odisha, which is so rich in natural and architectural heritage like Konark Temple and Chilika Lake be completely left out? We are going to take up the matter with the Central government and in all other forums. We will also raise the issue in Parliament and seek the intervention of the Chief Minister in this matter. We would like the central government to reconsider its decision," Odisha Minister of Tourism and Culture Jyoti Prakash Panigrahi reacted.
What's more, the state has also been left out of the Buddhist circuit and does not figure in the Ministry of Tourism's list of Buddhist sites. The ministry's Swadesh Darshan Scheme identifies the Buddhist circuits in Madhya Pradesh, Uttar Pradesh, Bihar, Gujarat and Andhra Pradesh but there is no mention of Odisha's Ratnagiri and Lalitgiri.
Even the budget-carrier Indigo has left out Odisha from its proposed new services to be launched on August 8 to connect places of Buddhist importance in the country.
While the ire of the Odisha government and the people, is quite understandable, it also provides food for thought and a chance at introspection. So instead of asking what did we do to deserve this, the question should be, how it could it have been ensured? What could have been done?
OdishaBytes spoke to a cross-section of professionals who are connected with the tourism industry in some way or the other. Other things apart, the consensus is that we must first ourselves, discover our state, promote it among ourselves and strive to value its historical destinations before giving a chance to other to appreciate and admire it.
 Jitu Mishra (anthropologist, travel blogger, archaeologist)
Personally, I am least bothered about the Centre's statement. We, the people of Odisha, have to realise the treasure we hold in the hinterland of our state. We need to bring out the stories of places like Koraput, Kandhamal and these tribal belts that have the potential to be world heritage sites. The national media too, needs to shift its attention to our state. Besides, I think there is a lack of right kind of promotion and marketing for Odisha Tourism. I am working on a personal level and so should anyone else, who has the power to bring out the enchanting stories and sceneries that our state has. It is surprising to know that many people are not aware of the fact that Koraput is India's only Agro-Heritage site. These things need to be put out on the social media and news!
Udayan Sarathi (traveller/photographer)
Well, I am definitely disappointed. But then I also noticed that almost all the places listed

by the Government of India have good infrastructure in the surroundings in terms of hotels and transport etc. The respective state governments have ensured that.
Whereas Konark, Odisha's most iconic heritage structure lacks on this front. We don't have enough good hotels, no good guides, the view from the road is blocked due to street vendors.
The Government is trying to work upon already developed sites. Instead of seeking attention, we should develop and promote our sites. We have good roads, that's one part. We need to focus more on basic tourist facilities. We need to get over the Golden Triangle Bhubaneswar-Puri-Konark and think of other sites as well.
Taranisen Patnaik (traveller, blogger, entrepreneur)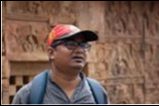 To my mind, Old Town ought to be in the world heritage site list because of its monuments from the 7th to 15th centuries.
Somnath is a relatively new monument rebuilt in the 1950s and it has been added for unknown reasons. Maybe because of tourist inflow or close proximity to the sea or just because it is in Gujarat.
Dhirendra Singh Rajpurohit (traveller)
Odisha has a lot of pristine beauty. It is not just about Bhubaneshwar, Puri or Konark.
There are the mesmerising Keonjhar Mayurbhanj waterfalls, serene beaches of Gopalpur and Paradeep, the spellbinding peaks of Deomali, Daringbadi and Mahendragiri, ancient temples and the Jirang Monastery. Then there are the lush green jungles of Simlipal, Satkosia and the natural crocodile reserve at Bhitakanika.
However, many local people are unaware of all these places due to lack of tourism promotion and government involvement.
We have to repackage our tourism potential with facilities like hostels, homestays and guesthouses better public transport. This is where states like Gujarat and Maharashtra, which have less tourism potential score above us.
Ananta Prasad (travel blogger-turned entrepreneur) 
Konark is not being promoted internationally; Keonjhar, with its beautiful waterfalls, needs a lot of grooming and can be projected as a place like Meghalaya; Puri has the maximum potential and still underrated as only the temple and the sea beach are promoted. The culture the city carries with its history is almost extinct.
So, instead of looking for Central Govt funding, we can start rebuilding our tourism model and approach towards going global.
Bhubaneswar itself has so much to offer but in the name of a smart city, we are going to lose its charm as a heritage city.
Tanuja Sethi (artist, entrepreneur, traveller)
I feel is Odisha has always been ignored. I am not surprised that we are not in the list. Also, we first need to explore our historical places ourselves for more at the visibility at world level.