Poll Strategist Prashant Kishor Declines Offer To Join Congress; Check His Tweet
New Delhi: The Congress on Tuesday cleared the air regarding Prashant Kishor joining the grand old party. The poll strategist, who presented a blueprint for the 2024 elections to the party leadership, including interim chief Sonia Gandhi, earlier this month, has declined the offer to be part of Empowered Action Group, spokesperson Randeep Surjewala announced on Twitter.
"Following a presentation & discussions with Sh. Prashant Kishor, Congress President, has constituted an Empowered Action Group 2024 & invited him to join the party as part of the group with defined responsibility. He declined. We appreciate his efforts & suggestion given to party," Surjewala tweeted.
After meeting Kishor, Sonia Gandhi had set up an eight-member panel to study his recommendations and prepare a report and later Empowered Action Group-2024 to address the political challenges and discuss an organisational overhaul.
Check Kishor's tweet here: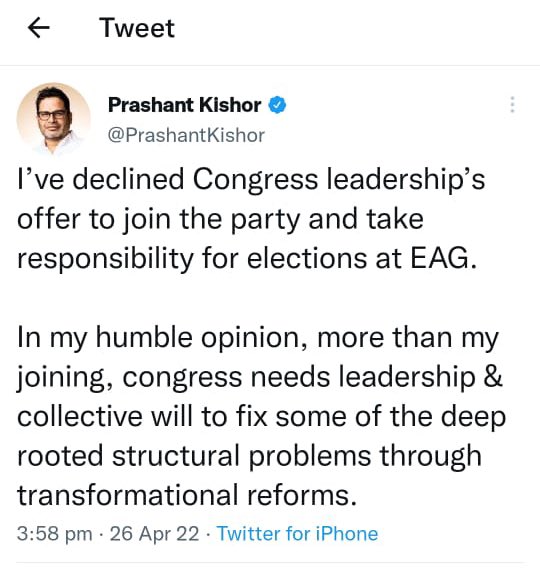 Notably, Congress general secretary Tariq Anwar had earlier described Prashant Kishor as a brand with proven credentials and said that he was willing to join the party without any preconditions.