Hyderabad: India's men's singles players made a killing in the players' auction for the Vodafone Premier Badminton League – 3, with H S Prannoy and Kidambi Srikanth emerging as the most valuable players here on Monday. They were picked up by Ahmedabad Smash Masters and Awadhe Warriors and will earn a whopping Rs 62 lakh and Rs 56.1 lakh respectively, said a release on Monday.
Emerging star Sameer Verma (Mumbai Rockets; Rs 52 lakh) and Ajay Jayaram (North East Warriors; Rs 45 lakh) were also very much in demand as the eight teams bet on the country's talent to not only build their brands but to also give themselves a shot at the Rs 6 crore prize money purse.
The country's top badminton ladies player, world number two P V Sindhu (Chennai Smasher; Rs 48.75 lakh) and Olympic bronze medallist Saina Nehwal (Awadhe Warriors; Rs 41.2 lakh), were locked up in the first round itself as their old teams opted to retain them. With the presence of Olympic champion Carolina Marin, world number one Tai Tzu Ying and Korea's Sung Ji Hyun, this becomes a world-class field.
Among the foreign stars, Tian Houwei of China was the biggest gainer, going to Delhi Acers for Rs 58 lakh. Chris Adcock of England (Chennai Smashers; Rs 54 lakh), Tai Tzu Ying (Ahmedabad Smash Masters; Rs 52 lakh), Wang Tzu Wei of Taiwan (North East Warriors; Rs 52 lakh), world number one Viktor Axelsen of Denmark (Bengaluru Blasters; Rs 50 lakh), Son Wan Ho of Korea (Mumbai Rockets; Rs 50 lakh), Lee Yong Dae of Korea (Mumbai Rockets; Rs 46.8 Lakh) were the biggest buys in an action-packed auction.
The day's biggest star proved to be India's very own Prannoy, who has rapidly risen in the world rankings this year. He had remained unbeaten in PBL 2 too, adding to his winning quotient. Virtually every team went after him before it eventually came down to a direct tussle between new entrants Ahmedabad and his old team Mumbai Rockets.
The Rockets gave up the battle once they realised that Ahmedabad were not going to withdraw at any cost. The final bid of 62 lakh, compared to last year's Rs 25 lakh, means a mind-boggling jump of nearly 250 per cent for him. Not surprisingly, he was all smiles when he realised that he had emerged as the most expensive player of the league.
"I am really surprised; I did not expect such a huge jump," he said at a press conference later. "I thought I might for for maybe Rs 10 or 15 lakh more but this is amazing. I am really happy to be part of Ahmedabad Smash Masters and am looking forward to the new season," he added.
He said that he would be under a little more pressure but felt confident of carrying his team forward. With women's world number one Tai Tzu Ying by his side, and a good mix of Indian and foreign players, they might well turn out to be the team to beat this year.
The eight teams splurged almost their entire purse of Rs 2.4 crore each on their quota of 10 players. But it was evident that they were absolutely clear who they wanted. Almost all of them bought the key players and sat back to attack the reserve players, those who didn't get picked up when their names first cropped up.
Hyderabad Hunters used up virtually all their money while North Eastern Warriors were left with a balance of Rs 19 lakh, the most by any team.
Interestingly, the teams clearly wanted to beef themselves up with strong doubles players to cope with the format.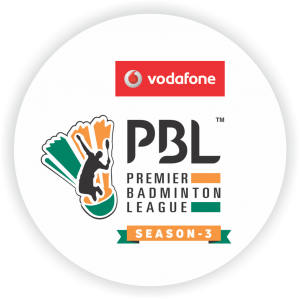 BAI President and Chairman of PBL, Dr Himanta Biswa Sarma, was exhilarated after the auction. "As expected, the auction was truly gripping. Each team looks well-balanced and I won't hazard to guess the winner. I believe any team can win the championship," he said.
"It was an interesting day of bidding," Prasad Mangipudi, executive director of Sportzlive, the promoters of the League, said. "It was evident that each team was clear about their main targets and yet they had Plan Bs too. All the teams have returned with a strong lineup and it promises to be an exciting season," he added.
Each team picked up a total of 10 players, one of them being the Icon player. A maximum of five foreign players and a minimum of three female players were mandated. The teams will now have to sign a junior player (under-17) as per the BAI requirement to give exposure to upcoming players.
The league will be played from December 22-January 14 and will see each team playing five ties in the league stage. The playing schedule will be decided through draw of lots and each tie will comprise of five matches: two men's singles, one women's singles, one men's doubles and one mixed doubles.
The matches will be three-game affair following the 15-point format. The concept of trump match will be in play this year as well, with one player allowed to feature in only two trump matches in the league stages and one match during the knock-out stage.
The winners of the League will take home Rs 3 crore while the runners-up Rs 1.5 crore. The losing semifinalists will get richer by Rs 75 lakh. The 24-day league will see the eight teams, namely Delhi Acers, Mumbai Rockets, Bengaluru Blasters, Chennai Smashers, Hyderabad Hunters, North Eastern Warriors, Ahmedabad Smash Masters and Awadhe Warriors in action. The PBL Season 3 will be telecast Live on the Star Sports Network and streamed live on Hotstar.
PBL Auction Quick Facts:
Total No of Team – 8
Total no of Event Days- 24 days (December 22nd 2017-January 14th 2018)
Total No of Venue of Play- 5
Total No of Players for Auction-120
Total Countries Represented-11
Total No of Top 10 Ranked Players – 17
Total No of Top 20 Ranked Players – 32
No of Icon Players and no of Indian Players -9 including three Indian
Total No of Olympic Medalists–10
Total No of Medalists from World Championship 2017- 8
Total No of India Players in the auction – 82
Total Auction Purse for each Team- INR 2.12 Cr
Maximum Cap on a player during auction – INR 71 lakhs
Total Prize money: 6 Cr (Winner-3cr,Runner Up-1.5cr,3rd and 4th place finish -75 lakhs each)