Presidential Polls: Droupadi Murmu Leads After First Round Of Counting
New Delhi: NDA candidate Droupadi Murmu is leading after the first round of counting of votes in the 16th Presidential polls on Thursday.
Of the total 748 votes cast by MPs, Murmu received 540, while Opposition joint candidate Yashwant Sinha received 208 votes.
Secretary General, Rajya Sabha, PC Mody informed that 540 votes worth 3,78,000 have been secured by Droupadi Murmu as against Yashwant Sinha who secured 208 votes with a value of 1,45,600 while 15 votes were invalid. "These are figures for Parliament (votes), please wait for the next announcement," he added.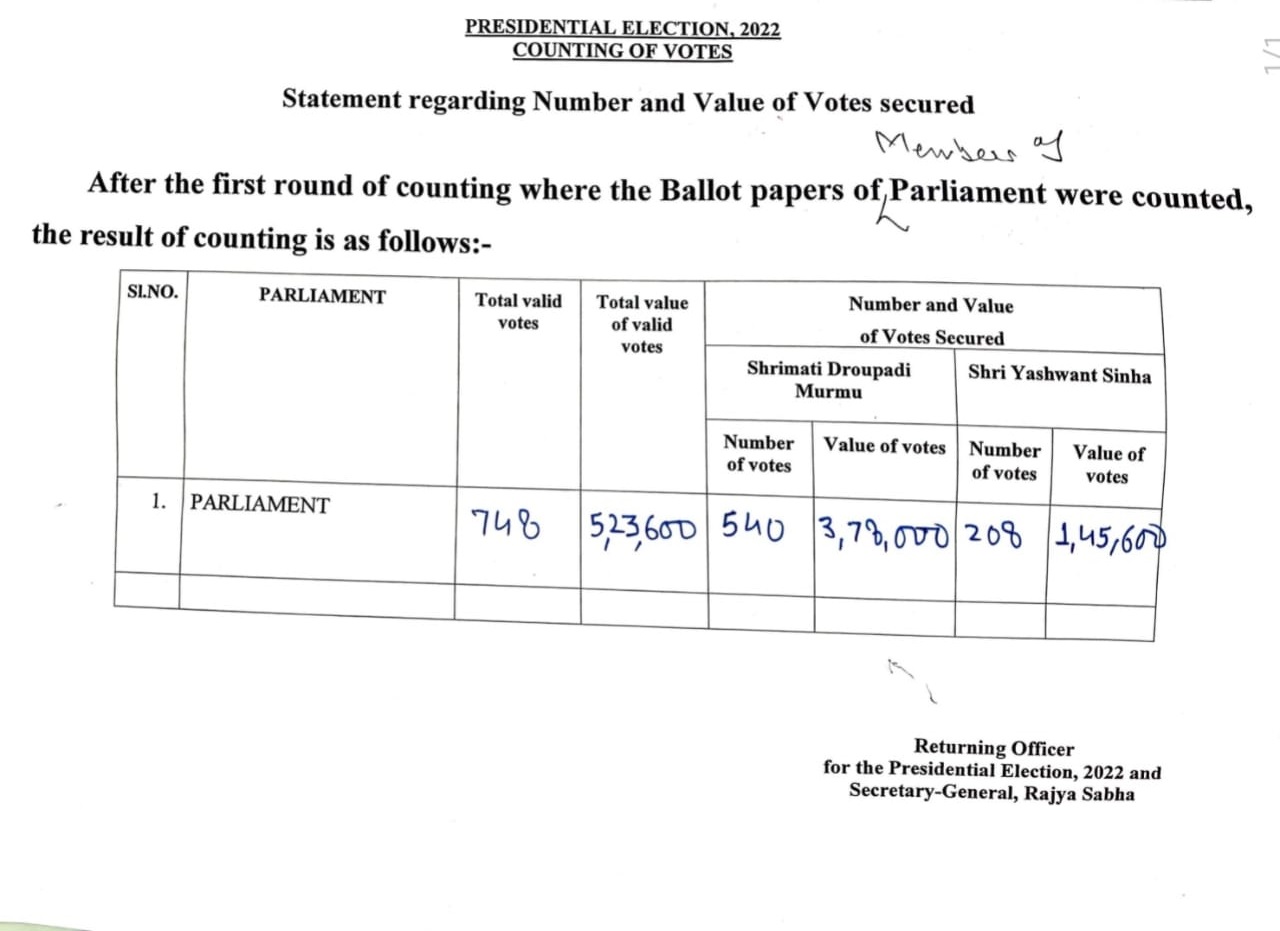 These will be followed by state votes.
Polling for the presidential election was held on Monday at 31 locations, including the Parliament House and 30 centres within state legislative assemblies.
Also Read: India To Get Its 15th President Today; Did Another Odisha Cong MLA Vote For Droupadi Murmu
The odds are clearly stacked in favour of Murmu, who, if elected, will be the first woman from the tribal community to occupy the country's top constitutional post.
Meanwhile, celebrations have begun at Odisha's Rairangpur village, the native place of Murmu. Special prayers were also offered at the famed Chinnamastika temple at Rajrappa, recognised as an ancient Shakti seat, for the victory of the Jharkhand's former governor.
Also Read: [Watch] Presidential Candidate Droupadi Murmu's Native Place In Odisha Gears Up For Celebrations
Murmu's birthplace, in-law's village, Rairangpur Assembly constituency and district headquarters town Baripada have been decked up with festoons, banners and colourful gates to celebrate after her election is officially announced. People of Rairangpur have prepared 20,000 ladoos for distribution among the participants.