Prominent Cong and TMC Leaders Defect To BJP
New Delhi: The Congress and Trinamool Congress on Thursday suffered big jolts with prominent leaders from both parties joining the BJP.
Tom Vadakkan, a senior Congress leader and close aide of Sonia Gandhi, joined the BJP in the presence of Union minister Ravi Shankar Prasad, inflicting a psychological blow on the Congress.
Vadakkan's exit has taken the capital's political circle by surprise, though the Congress had begun to sideline him from various party positions. He was recently removed from the party's media cell, but his exit was least expected. "I was deeply hurt when the party (Congress) questioned the integrity of the armed forces," Vadakkan told mediapersons at the BJP headquarters.
He claimed he was moving to the BJP because of his "love for the nation" and that he was deeply appreciative of Prime Minister Narendra Modi's development narrative. He said he had taken the decision to join the BJP with a "heavy heart", while in the Congress dynastic politics was at its "zenith".
Vadakkan has never contested elections nor has any voter base to vouch for, but his exit after 30 years in the Congress will have a psychological impact on the grand old party, political observers feel.
Thursday marked a significant day for the BJP in Bengal, too, as four-time TMC legislator Arjun Singh, an influential leader in the Mamata Banerjee government, joined the BJP. The legislator from Bhatpara Assembly seat wanted a ticket to contest the Lok Sabha elections from Barrackpore and had made no secret of his aspiration.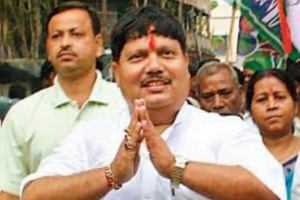 He is on record saying people of Barrackpore were not happy with sitting lawmaker Dinesh Trivedi. But Trivedi has been renominated.
A strongman not known to shy from using muscle power, Arjun Singh is close to BJP leader Mukul Roy, who was once Mamata Banerjee's right-hand man.