Hong Kong: Anti-government protesters stormed the Hong Kong airport building on Monday, forcing a host of airline operators to cancel their flights.
In a first for the aviation industry in all likelihood, all flights from the airport were cancelled from 4 PM onwards. The protesters disrupted daily operations inside the terminal building and prevented passengers from checking in and clearing airport security, media reports said.
"All check-in service for departure flights has been suspended. Other than the departure flights that have completed the check-in process and the arrival flights that are already heading to Hong Kong, all other flights have been cancelled for the rest of [Monday]," the operator of the Hong Kong International Airport said in a statement.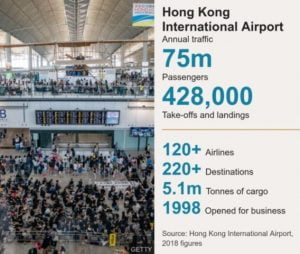 The protests began over plans weeks ago that would have allowed extradition from Hong Kong to mainland China.
Metro services and bus services to the airport was stopped as the mass of people stormed the airport as their next target. During the weekend, they had crippled life in the various districts of the city.
BBC quoted officials saying incoming flights will be allowed to land but the scheduled departure has been cancelled.