Puri's Trupti Panda Nominated As Vicedomini To World Union Of Poets
Puri: Poet and social worker Trupti Panda has been nominated as Vicedomini to World Union Of Poets and World Parliament of Literature.
Trupti is the second Odia to have found place in the World Union Of Poets which has 1.5 lakh members worldwide.
She started writing poems when she was in Class IX. So far, she has eight books to her credit and is currently editing a magazine.
"I am very happy for lifetime nomination to the level of Vicedomini of the World Union of Poets. To reach this place, my family members including my parents, husband and children have supported me a lot," said Trupti.
She has received many state and national level awards for her creativity.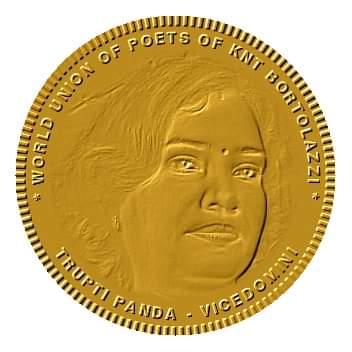 "I hope that people will love me for my work. Besides writing poetry, I will continue to do social work, which are my childhood hobbies," she added.
Belonging to Bayabara village near Balanga in Puri district, Trupti now stays at Gundicha Vihar in Puri town. She is the eldest daughter of Basudev Panda and Ullashmani Panda and wife of Dr Soumyakanta Panda.