Bhubaneswar: Governor of Bihar, Satya Pal Malik, was sworn-in as the new Governor of Odisha on Wednesday.
Malik was administered the oath of office and secrecy by the Chief Justice of the Orissa High Court, Justice Vineet Saran at a function at Raj Bhawan here.
Among others, Chief Minister Naveen Patnaik, Chief Secretary Adtiya Prasad Padhi, Director General of Police (DGP) Dr RP Sharma and other senior officials were present at the oath-taking ceremony.
Earlier in the day, Malik was received by the Chief Minister, the Chief Secretary and the DGP at the Biju Patnaik International Airport here. From there, he went to the Raj Bhawan where he was administered the oath of office and secrecy.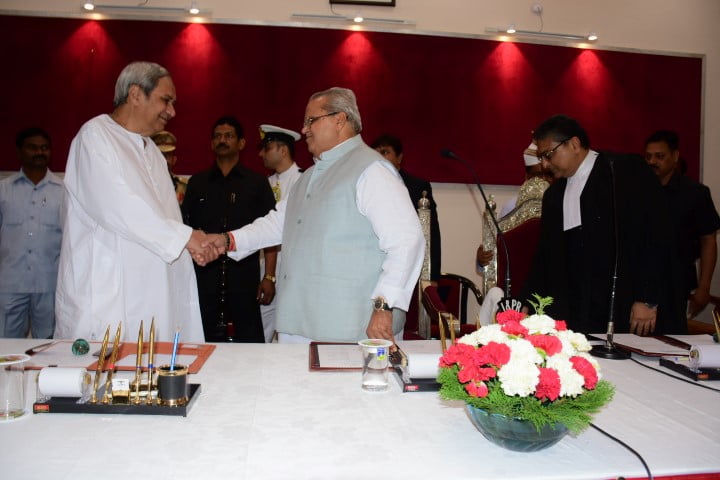 Former MP and BJP's national vice-president, Malik was appointed as the Governor of Bihar on September 30, 2017.
As the post had fallen vacant after Ram Nath Kovind was nominated as the BJP's presidential candidate in June, West Bengal Governor Keshari Nath Tripathi was been given the additional charge of Bihar.
The septuagenarian leader has served as the Union Minister of State, Parliamentary Affairs and Tourism and has held many important positions in Central and state governments. He was also a Rajya Sabha MP for two terms and a Lok Sabha MP from 1989 to 1990 and also a Member of Uttar Pradesh Assembly from 1974 to 1977.
During his political career, he has also been the chairman and member of many Parliamentary Standing Committees.
He completed his graduation in Science and LLB from Meerut University and holds a Diploma in Parliamentary Affairs from Institute of Constitutional and Parliamentary Studies run by Parliament of India.
Following the end of tenure of Governor SC Jamir on February 20, President of India Dr Ram Nath Kovind had given the Bihar Governor additional charge of Odisha. As per a Rashtrapati Bhawan, Malik was asked to discharge functions of Governor of Odisha, in addition to his own duties.
Veteran Congress leader, former Nagaland Chief Minister and former Governor of Maharashtra and Goa, Jamir was sworn-in as the Governor of Odisha by the then Chief Justice of Orissa High Court Justice Chokalingam Nagappan on March 21, 2013.